It's been a banner year for dramatic, contentious, weird and/or humorous trucking news here on the Channel 19 blog. I can't possibly predict how 2010 will be remembered years down the line, but read through the lens of this blog, well, it was nothing short of tumultuous, containing the highest of highs and the lowest of lows. (Readers, an informal poll, if I may: what is the most memorable among the Channel 19 posts or coverage threads of 2010? Put them in the comments section here.)
Looking back, it's clear to me, too, that a shift in how I think about the blog, from just an extension of the old Channel 19 humor column in Overdrive (whose last formal edition was in this month's mag — wait till you see the new "Roadside Attractions" front-of-the-mag section coming out in January) to an integration and extension of and side-road detour from all the more in-depth work I do for the magazines, took full effect and has boosted whatever vitality it may have offered before. I hope you agree. And if not, hey, let me know!
Now, indulge me in a run back down memory lane…
January
Back when FMCSA still seemed to be confused about whether it was going to rate individual drivers or not with CSA 2010 (not, it turned out, though others were already getting into that game with motor carriers), Con-way Truckload's Randy Cornell was jumping out of planes for driver safety, and, more seriously, the driver community was still reeling from the abrupt, pre-Christmas 2009 closing of Arrow Trucking. We told the story here of one stranded driver and the good samaritan hauler who got him home. Threads to extend throughout the rest of the year you see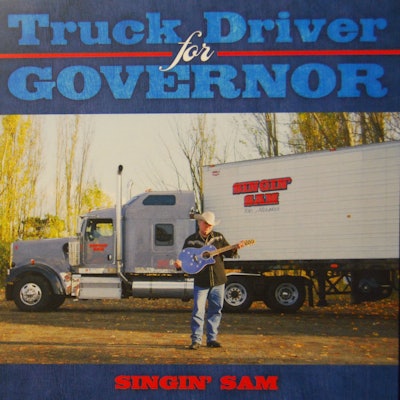 forming here, too, from Alaskan hauler Singin' Sam Little's gubernatorial campaign launch (ultimately unsuccessful) to the lasers of U.S. DOT attention to in-cab distractions. With a nationwide texting ban in the offing (ultimately successful), Will they ban eating while driving, too? we asked, in a post about a hauler's unfortunate accident in Oregon, sustained after choking on his lunch. Perhaps an example of the need for more flexibility in the hours of service?
February
Speaking of the hours of service, many drivers were heartened in February after DOT listening sessions conducted in part at truckstops took stock of driver points of view on the subject. How that continued to turn out is recent history in motion, but way back when, it really seemed FMCSA may finally have been listening to drivers.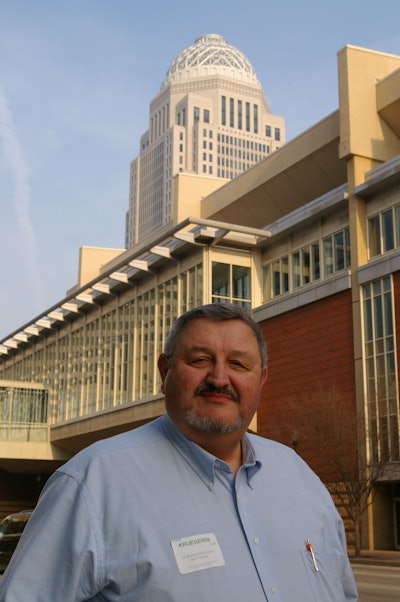 Yellow Freight driver Karl Krueger (pictured), who once won the Democratic Party nomination for his U.S. congressional district seat in Wisconsin and famously ran for president in 2008, was tragically killed in an on-highway crash, and the first two stories of the year (here and here) having anything to do with ice road trucking did not mention Lisa Kelly.
Also in February, my first bit of local, trucking-related reporting from Nashville, where I moved in August of 2009, appeared, presaging more to come…
March
The month that marks the beginning of what might be one of those "highest of highs" I noted above — at the tail end of the month, I ran through Donelson and Hermitage, into Mt. Juliet, west of Nashville with a young woman on her way on an on-foot trek across the country to highlight driver-health and health-care needs. Jazzy Jordan needs no introduction, but of course, and it wouldn't be the last time our paths crossed, as she was the subject of my June Truckers News feature, the month she finished her run,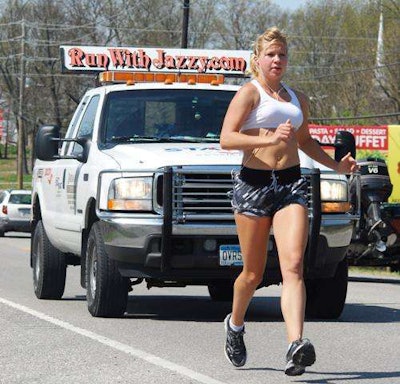 amazingly, in New York City. We ran again briefly in Dallas on the occasion of the Great American Trucking Show, and all in all, writing about her achievement was a rare 2010 treat for this trucking journalist.
Related, the burgeoning driver-led movement for better health gained momentum with a health walk at the Mid-America Trucking Show, to be repeated at events later in the year and eventually gaining the undivided attention of the DOT secretary.
Trucking bluesman Watermelon Slim played a dynamic show solo in Nashville on tour with his "Escape from the Chicken Coop" album, while Women in Trucking tried to break a Guinness World Record and one infamous Maine log-hauling family played a high-profile prank on the other. It was a busy month — CSA 2010 began to become clearer, though questions remained, for FMCSA and for the rest of us.
April
Hours of service month on the Channel 19 blog — drivers Tom Balaz and Jeff Clark proposed novel ideas for incentivizing safety with hours flexibility, and the American Trucking Associations came out in support of added sleeper berth flexibility, ideas that, if recent history bears fruit, would ultimately bear no fruit themselves, unfortunately.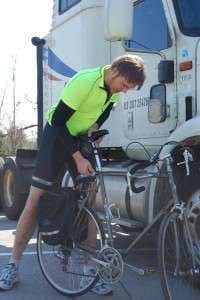 Singin' Sam Little came to Nashville and sang us his campaign song, and truckers scored a grassroots victory over a proposed ban of traffic on a particular New York state road just as the feds finally struck down (for the third time) Pennsylvania's long-running attempt to toll I-80. After meeting cyclist/owner-operator Scott Grenerth (pictured) on my run with Jazzy, I biked with him along the Shelby Greenway in my East Nashville neighborhood, talking trucking and cycling along the way. I saw Grenerth in town a few weeks back and, says the proprietor of TruckerCycler.com, he's been at work on a Google Maps-tooled program to allow haulers to more effectively search out places to ride, run and walk near truckstops. Keep an eye out for more on this in the new year.
May
Oh water. Sometimes, the story laps right up into your basement. I sat through two days and more of torrential downpours over the weekend of May 1-2 in my Nashville home with plenty of cabin fever, no doubt, but by end of day Sunday, as the sun peeked out for a brief period and I shop-vacced out the inch or so of water at the center of my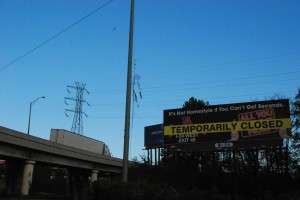 basement, the enormity of what had happened in the region still wasn't clear. That clarity would come the next morning, when I talked to Jeff Clark, who was just finishing up a jog in the median on I-40 west of town, part of a legion of haulers force-parked by the flooding of the Harpeth River west of town, leaving the bridge over said river impassable. There were several points of such on area interstates, trapping drivers in the city with nowhere to go. I got on my bike and rode to the TA downtown, where I was greeted with the unthinkable around the Cumberland.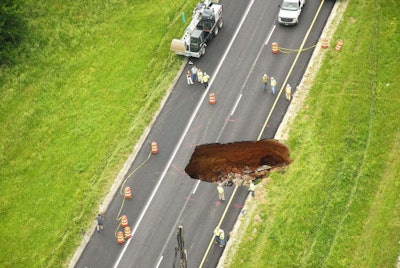 The Nashville flooding dominated the blog throughout the month, from an owner-operator assessing options for his rig, caught in the deluge at the TA, the efforts of fleets to pail out, and the sinkhole that opened up on I-24 in the weeks following, diverting traffic for days, to Grascals tour-bus driver — and former trucker — Stuart Myrick's dramatic story.
But the month wasn't without lighter fare, including a funny vision of how one might trick an EOBR and one Texas reefer carrier's van-side advertisements for homegrown country music talent. A phone headset maker, furthermore, uncovered perhaps a surprising driving distraction in a survey of customers: "sex or other sexual acts." Yikes.
June
Since the Jason's Law truck parking availability and security legislation was first introduced in Congress following the early 2009 slaying of N.Y. truck driver Jason Rivenburg, drivers around the nation have advocated for its passage. This month saw movement on the issue, with drivers staging a national call-in day to express support to legislators and to note the united front — with industry organization from the American Trucking Associations to the OOIDA and the Teamsters Union all expressing favor of the law — the trucking world had put behind the bill. Ultimately, the year would expire with little real movement on the issue.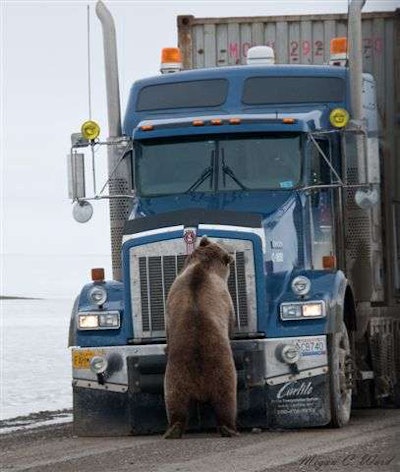 We announced new Truckers News photo contests, to start in July, just as Jazzy was finishing her run this month. An infamous Trucker of the Year wore his SpongeBob Squarepants boxers into the truckstop coffee line, and an Alaskan Haul Road driver had a close encounter, caught on camera, with a bear (again, Lisa Kelly was not mentioned). We had our own near-miss of Oklahoma City flooding while talking trucking history with a dealer network chairman and drove our first Class 8 at a large carrier's 75th-anniversary celebration. Lisa Kelly was mentioned, dubbed the "Sexiest Trucker Alive" by Esquire magazine.
July
More driving distractions reared there heads, namely dentistry, as a Canadian driver was pulled over for erratic driving and discovered to have just completed employing the vibrations of his rolling truck's cab, paired with a string, to pull a troublesome tooth. Trucking music was on offer in a Convoy for a Cure-inspired song by country crooner Terry Wooley and Jason's Law- and other issues-inspired tunes by the duo of David Ayers and Barry Clark.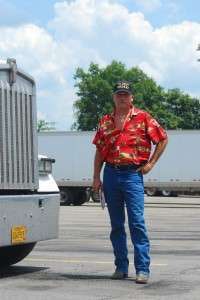 Increasingly, the music of trucking is both written and performed in part by working drivers, a phenomenon I covered throughout the year, particularly with coverage of (pictured) owner-operator Howard Salmon's continuing efforts as well as the crew of drivers contributing to the Truckers Tracks series, from Keys Trucker Jan McCarter to Stephen Cohen.
A former trucker was reduced to tears by a double rainbow, and an owner-operator told me (big news) that he preferred electronic logs.
August
The driver-health and health regulation issues became national news for a day and saw driver direction action at the Dallas Great American Trucking Show in health walks and runs staged there, among other happenings at one of the biggest trucking events of the year. Women in Trucking head Ellen Voie got a tattoo live on the show floor to show her appreciation for members, and Channel 19-covered artists got their due in a live show in the truck parking lot.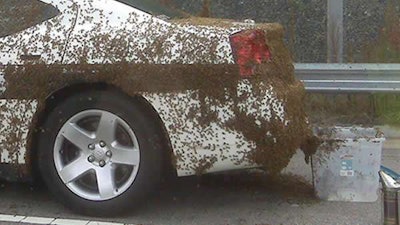 The Pre-Existing Condition Insurance Plan enabled by the health-care reform bill became available, truck cargo theft was dubbed the "21st century's signature crime" and a swarm of honeybees got their ultimate revenge on a bear.
September
The cargo theft problem continued to be of concern, as Truckers News' cover story on the issue was released and drivers posed Jason's Law as a potential at least partial solution. A service launched offering truckers and motorists the somewhat bizarre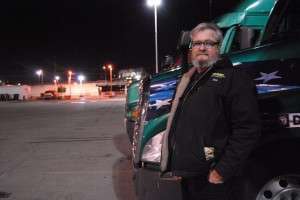 option to "prepay traffic tickets," and owner-operator Dick McCorkle (pictured) recounted his 9/11 NYC delivery on the occasion of the attack's anniversary.
Weeklong truck-traffic jams appeared to be plaguing Chinese roadways, and a British haulier was caught in the camera lens eating a bowl of cereal (yes, using both hands) while shuttling around London's loop highway (pictured, below). The fallout from Arrow Trucking's closure continued with a plea to the driver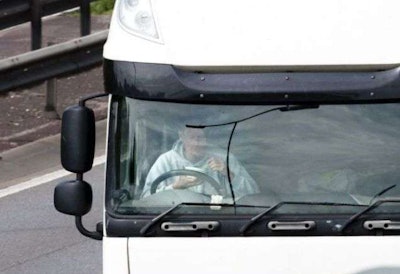 comunity from a former driver advocate with the company, and an affordable option for electronic logging was hiding in plain sight.
October
Many people were talking about there not being enough of you. I met Bobbie Boofay and got to wear his glasses (pictured, below) the same month he got famous with other YouTubing truck drivers on National Public Radio. More scenes from Nashville accompanied the news, these from the first annual Chrome & Class Truck Show at the Rush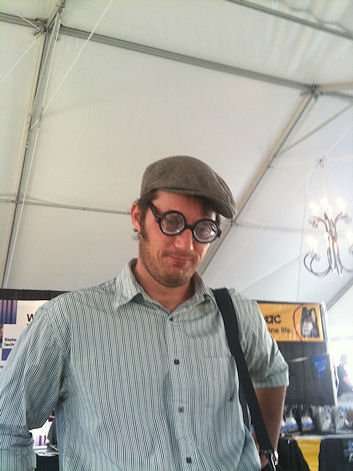 Truck Center location in Smyrna, Tenn. Not to be outdone, Memphis was the site of another first show in the Memphis Trucking Expo.
The CSA 2010 era for employment was under way. Concerns about the FMCSA's Pre-Employment Screening Program, giving carriers access to prospective hires' inspection histories for the first time, reared their heads, chief among them the notion that the PSP could be fraught with the same kind of difficulties long plaguing "DAC Report" employment histories.
IRT: Deadliest Roads, sending Ice Road Haulers to tough Himalayan mountain passes, premiered on the History Channel, and my interview of Lisa Kelly would not be the last time she was mentioned in the blog this year.
November
People kept talking about there not being enough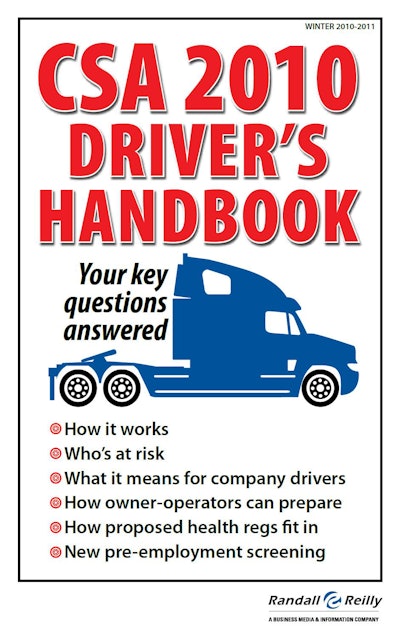 drivers — CSA 2010 seemed to be scaring the wits out of carriers — but on the upside driver pay and rates were reportedly on the rise. We released a comprehensive CSA handbook for drivers, immediately after which news surfaced of a viable way for drivers to avoid paying $10 to the government PSP contractor just to verify the accuracy of their information on file. CSA would go live in December, and as of this year-in-review, everyone was continuing to assess what it would really mean for drivers and carriers, after of course preassessing it all year long. Maybe, it was suggested by more than few drivers, we'd done too good job of that preassessing, to the point, well, of overassessing…
Christmas stories began before Thanksgiving was even over, with early news of a dealer's monthlong sweepstakes (resolved just yesterday) and news of the U.S. Capitol Christmas tree's hauler beginning his cross-country trek. And a wrap was made on one Nashville fleet's flood story, if trucking's full post-flood story remained incomplete.
December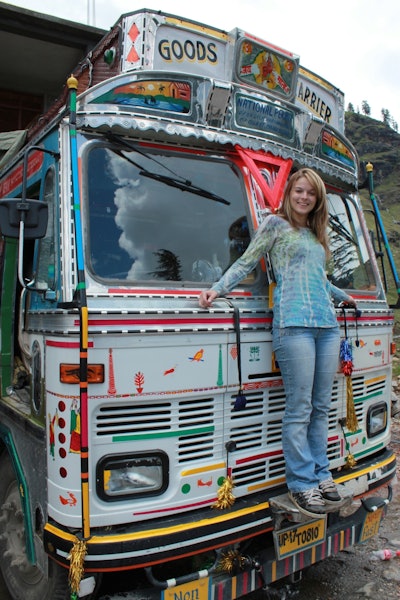 The end of the year approached, and FMCSA realized they might have a problem in 2011 with an enforcement program called CSA 2010, so they renamed it CSA. Things were mostly quiet but for all the arguing, of course, over all manner of things, from an hours-of-service proposal to whether a Louisiana truckstop should really be displaying a grown Bengal tiger on its property to more CSA news to Wikileaks to whether Class 8s were more efficient than four-wheelers to DOT's determination to introduce a ban on all handheld cell phone use by commercial drivers.
Lisa Kelly (pictured) didn't come up, but the trucking-sponsored bowl game at which she was scheduled to appear Dec. 18 was won handily by Northern Illinois.
Best of all, I got to finish the month out by writing this round-up; at least, it'll make a handy reference in future, a trucking time capsule that hits on not only the big issues but a cross-section of individual moments in history, peopled by those who really make the industry move.
Here's wishing all of you a happy new year. I'll see you on the other side of it. CSA is likely to come up, if not Lisa Kelly.