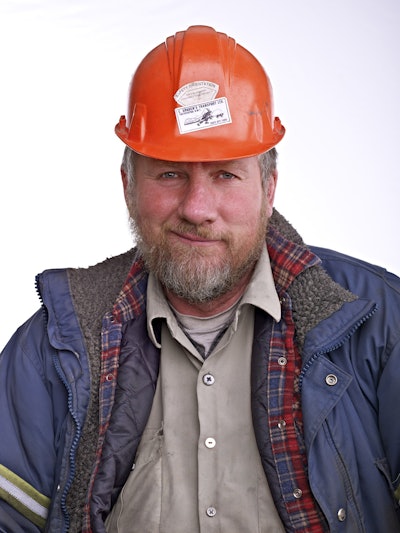 Next week, it's safe to say that all roads in the North American trucking world lead to Dallas, even the Canadian ice roads — or at least those typically run by Yellowknife, Canada's Alex Debogorski, past "Ice Road Truckers" star, who will be on hand at the Dallas Convention Center for the Great American Trucking Show Aug. 26-28 at the Bridgestone Bandag Tire Solutions booth #16089 as part of the Firestone Truck Tire Team. He'll meet fans and sign autographs at the booth Aug. 26-27 from 1-4 p.m., and on Saturday, Aug. 28 from 12:30 to 3 p.m.
You might find him — and most definitely pictures of him — out in the truck parking area in the Reunion Arena parking lot near the Convention Center one of three evenings the folks behind the "Ice Road Trucker: Truckers Tracks Vol. 3" production (I've written about them here and in Truckers News' June issue) are performing. Among their numbers expect songs written and performed by Keys Truckers' Jan McCarter and the record's producers, Johnny Neel and Doug Jones, as well as Dallas-based Performance Food Group hauler Stephen Cohen, whose own contribution to the record I documented in the video you'll find embedded below. I talked with Cohen, Jones and others in Johnny Neel's Nashville Straight-Up Sound studio back in February. The vid gives you a small sampling of several of the songs on the latest Truckers Tracks record as well.
In addition, other familiar names will be among the entertainment, presented by Corporal Norm's Highway Angels (you'll be familiar with the Corporal from the Special Olympics convoys, no doubt). Terry Wooley, Howard Salmon and Leland Martin all will be making appearances at some point. Visit the GATS website for parking layout information. A general schedule follows.
Thursday, Aug. 26, 5-10 p.m. — headliner: Terry Wooley
Friday, Aug. 27, 5-10 p.m. — headliner: Kathy White
Saturday, Aug. 28 5-10 p.m. — headliner: Leland Martin
[kaltura-widget wid="azvayd1vgo" width="400″ height="365″ addpermission="" editpermission="" /]