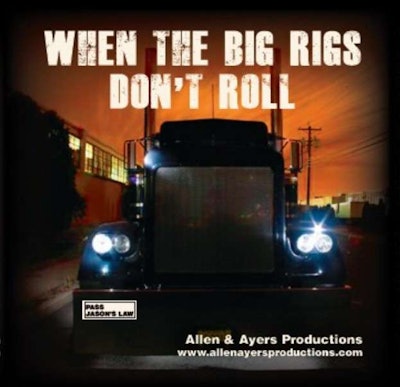 Join the www.AsktheTrucker.com proprietors this Wednesday for a live online exclusive release event for a new record aimed squarely at the politically conscious among you. "When the Big Rigs Don't Roll" is its title, and the country musicians/songwriters behind the 10 songs on the CD, David Ayers and Barry Allen, have birthed several winners in songs like the title track, first penned during a collaborative songwriting session in spring 2008, as the historic diesel-price spike neared its apex and truck convoys began rolling toward Washington, D.C. (check out the Washington Post pic of Ayers giving the thumbs-up to haulers during one such event at the Allen & Ayers website).
Also, a Jason's Law-inspired ballad is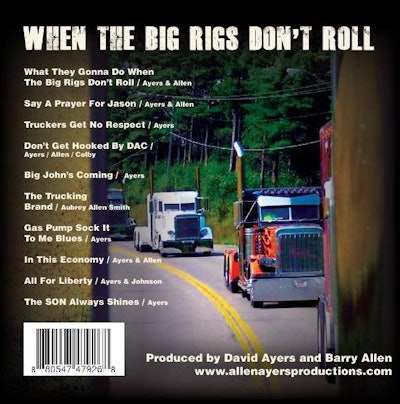 included in "Say a Prayer for Jason" Rivenburg, the New York-based hauler gunned down in South Carolina while parked in an abandoned grocery lot and whose death has inspired the legislation named after him. (I've written about it extensively, most recently in June as widespread support continued to grow for the truck parking safety/security legislation.)
The country-inflected record's well worth a listen, and that means a good bit coming from a rock 'n' roll/jazz guy like myself.
Tune into AsktheTrucker.com's Allen Smith's Truth About Trucking online radio show Wednesday at 8:30 p.m. for the release event — guests will include Ayers and Barry Allen, as well as Jason Rivenburg's widow Hope Rivenburg and Richie Acosta (the man behind the East Coast Large Cars truck show and whom Truckers News featured in its February 2010 cover story) , who supplied the front cover image of the CD (pictured, along with the back, here). Guests and callers will be able to ask questions live through the Internet and/or via their phones, win free CDs and listen to the stories behind the scenes of the CD's conception and production.
A performance of songs from the CD will also, Smith and co. say, take place at the Great American Trucking Show Friday, Aug. 27.