Did you know that the most decorated player in the WNBA (and a four-time Olympic gold medal winner besides), former L.A. Sparks star Lisa Leslie, grew up the daughter of a career truck driver? I didn't, that is, until last week, when at the Staples Center in Los Angeles during a game between the Sparks and the Indianapolis Fever Christine Leslie-Espinoza was recognized by Women in Trucking.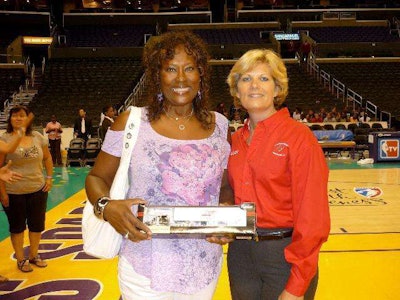 Lisa Leslie, see, credits her mom as being her primary role model. Leslie-Espinoza not only taught her daughter to be comfortable with her 6'5" stature, she showed Lisa and her siblings that women can achieve and succeed in a male-dominated environment. Lisa chose basketball, but her mom supported the family by driving a truck.
As Lisa Leslie's jersey was retired last Wednesday, her mom (pictured, left) was recognized by Women In Trucking Association President & CEO Ellen Voie (also pictured). "It was wonderful," Voie told me after the event, also detailing Christine Leslie-Espinoza's history, raising six children by working as a truck driver. "In the process," Voie says, "she showed her family and her peers that women can break barriers and be successful in trucking as well as in professional sports."
And consider that that was more than twenty years ago, and Voie describes Leslie-Espinoza as one among (at the time) somewhat few pioneers as a single female in the trucking industry.
Although the Sparks lost to the Fever the night of the event, the game was close and the crowd was enthusiastic, Voie says.