I'd bet y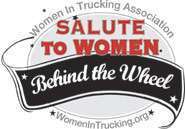 ou didn't know it, but the Guinness World Record for the largest gathering of female truck drivers was set by an all-woman truck convoy held in 2004 in the Netherlands. At least so say the folks trying to beat it at the Mid-America Trucking Show next week. As reported on several blogs and industry sites in the past week, the Women in Trucking organization's "Salute to Women Behind the Wheel" event is well past the halfway mark in beating the Dutch truckers' record of 416.
Jason Cox's Industry Examiner blog post of March 8 reported 241 women having registered at that point, and today, this story at the Handy Shipping Guide site had the number at 299. You can register here if you can be there, with festivities set for Saturday March 27, 2010, at MATS in Louisville, doors at noon. Alternately, call (888) 464-9482.
Cox reported that the "celebration will include a speech by [FMCSA administrator] Anne S. Ferro and an awards ceremony followed by a photo of the group wearing complimentary red t-shirts," among other sponsor gifts, entertainment and opportunities for networking. Registrations will likewise be accepted during the show at Women in Trucking's booth (#4065).