Clarksdale, Miss., resident, longtime Oklahoman and North Carolina-reared blues musicmaker Bill "Watermelon Slim" Homans plays a mean slide guitar. And "I was an above-average harp player," he says of his early years making music, his first record of work-song blues coming out in 1972. But when he hears what young blues players like Craig Lawler and Jason Ricci can do with the harmonica today, he knows from his 61 years ever more clearly why he spent so many of them working sawmills and, for as much as 13 years, driving trucks, 11 of those full-time over-the-road. And he's happy with being just "above average."
"While he may not be in the major leagues, a double- or triple-A baseball player is playing a good deal better than the rest of us," he told a small Nashville crowd at Carol Ann's Cafe Sunday.
And Slim carries the authority of his long real-world working experience with him, of course. He's done well for himself since going full-time as a working, touring musician in 2004, at the age of 55. He's won several Blues Music Awards and a gathering notoriety as a spectacular performer through continuing hard work, whether with his band, the Workers, or solo with harmonica and guitar, as he played Sunday. He's now on tour in the "Honey Wagon" (pictured), a one-ton van on which he's put upwards of 300,000 miles; in a sense, he says, he's still over-the-road, putting an average 70,000 miles on the wagon each of the last few years.
His new record with the Workers, meanwhile, "Escape From the Chicken Coop," might be the next great country-blues, you-know-what-thumping truck driving record to come across the pike.
Well worth a listen, in any case. Catch him live if he's coming through your town in the next few months before heading overseas. I know I will: he'll be back in Nashville later this month. Dates follow.
March
17 Oklahoma City Limits, Oklahoma City, Okla.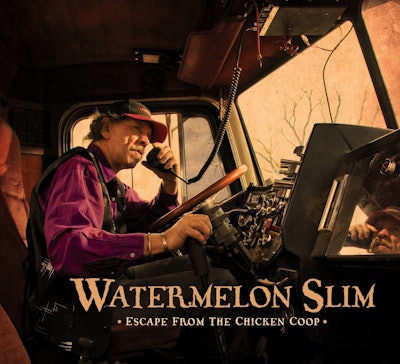 18 Flytrap Music Hall, Tulsa, Okla.
19 Nathan P. Murphy's, Springfield, Mo.
20 Chelsea's, Eureka Springs, Ark.
22 Carol Ann's, Nashville, Tenn.
23 Stevie Ray's, Louisville, Ky.
25 Callahan's, Auburn Hills, Mich.
26 State Theatre, Kalamazoo, Mich.
27 Legends, Chicago, Ill.
28 Beale on Broadway, St. Louis, Mo.
31 Zoo Bar, Lincoln, Neb.
April
1 Lift Lounge, Omaha, Neb.
2 Blues on Grand, Des Moines, Iowa
3 Knucklehead's Saloon, Kansas City, Mo.
17 Juke Joint Festival, Clarksdale, Miss.
30 Mojo Kitchen, Jacksonville Beach, Fla.
May
1 Bradfordville Blues Club, Tallahassee, Fla.
2 Common Grounds, Gainesville, Fla.
6 Gerald Veasley's Jazz Base, Wyomissing, Pa.
7 Chan's, Woonsocket, R.I.
8 Bull Run, Shirley, Mass.
14-15 Warmdaddy's, Philadelphia
18 BB King Blues Club, New York City