A great story in the California-based Porterville Record highlighted the difficulties being faced by a particluar 5-truck fleet in Ducor, Calif., Andromeda Transport, owned by Dave Schwartz. Schwartz (pictured, right, with his mechanic), as he told reporter Sarah de Crescenzo, considers himself a "modern-day environmentalist" in his commitment to keeping his older trucks in tip-top operating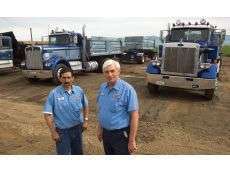 condition, thus enhancing their longevity, of course, and keeping them out of landfills and hard at work doing what they do best.
But his five vehicles' powertrains are all of sufficient age that, come 2011, they'll be illegal without retrofit if the current Truck & Bus rule from the California Air Resources Board stays in effect, requiring most pre-2007 engines to be retrofit with diesel particulate filters. Schwartz's five trucks puts Andromeda just above the threshold required for the small-fleet exemption to the reg through 2014 for fleets of three trucks or less. It's not an inexpensive proposition.
As Crescenzo wrote, "Between $40,000 and 50,000 would suffice for a retrofit, Schwartz estimated, to get one of his trucks up to standard." Click the thumbnail of the Record photo above for the full story.
I reported on the rules that were coming down the pike for 2010, including retrofit options, in Overdrive's October 2009 issue here.