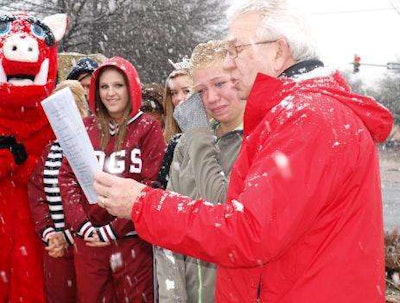 It's been a wild haul for Jasmine "Jazzy" Jordan, the 17-year-old Olympic-caliber cross-country runner who recently reached the halfway, 1,500-mile mark in her run across the U.S., carried out to raise awareness for truck driver health and health-insurance availability. You will remember Jazzy from my post in November, about her appearance on the Internet radio show TruckStar.
She's on her way to Memphis today, and in a few weeks will be passing through my home base of Nashville, where I'll hopefully be able to catch up with her. On her way toward Tennessee she's been presented the key to a city (pictured, as Texarkana, Ark. mayor Horace Shipp declares Feb. 11, 2010, Jazzy Jordan Day) and, shortly thereafter, visited by a satirical comic character created by Jim McCarter, one half of the band and new media mavens the Keys Truckers, who reported recently on their blog that good friend Mr. Bobby Boofay had a fun run with Jazzy in Arkansas himself a couple weeks back. Boofay (that satirical comic creation of Jim's I was talking about ) didn't make it very far as he ran with Jordan, as you can see at their site, but the same can't be said about the Keys, who are donating a quarter of every $1 download of their music to Jazzy's campaign. (And fine music it is — particularly their "Draggin' My Wagon," a tribute to DriverGeoff I've written about in the past.) Follow www.thekeystruckers.com for more.
Nor can the same be said for Jazzy, who's logged more than 1,700 miles on foot since she began. Go, Jazzy, go! Visit www.runwithjazzy.com for more information about donations, which benefit the St. Christopher Truckers Development and Relief Fund, providing financial assistance to truck drivers in medical cost binds.