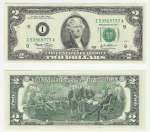 The $2 bill, you may not have known, was a calling card of Ruan Transport founder John Ruan, who passed away at age 96 on Sunday, Feb. 14, and was remembered fondly by many in a lighthearted tribute ceremony in Des Moines attended last week Thursday by more than 600 people.
After the celebration, reported David Elbert in the Des Moines Register, "guests were presented with $2 bills bearing Ruan's signature and a small caricature of him adjusting a bow tie." Ruan was well-known for wearing bowties, Elbert notes, going on to explain that Ruan used $2 bills frequently after "an early business associate gave Ruan a $2 bill to pay for gasoline"; young trucker Ruan had run out of fuel money.
Of course, he bounced back from that down time to build one of the "largest private trucking companies in the country," as Elbert had it. Read his full story here.