How's this for taking matters into your own hands?
After a few truck accidents on Montana highways 93 and 35 around Flathead Lake in the western section of the state, one of which spilled several thousand gallons of gasoline into soil precariously near the body of water, the public called for a ban of all truck traffic on the north-south routes, but public officials have instituted a different kind of policing measure with what they call the "Highway Watch" program. Modeling efforts on neighborhood-watch-type programs, they've posted signs advertising a hotline number, (877) 684-9935, for motorists and truckers alike to report unsafe drivers. While at the press conference unveiling the new strategy to rein in scofflaws, officials stressed that it wasn't directed just against truckers but against all offenders, Barry "Spook" Stang, a vice president with the Montana Motor Carriers Association, reported that haulers armed with radar guns and ridealong passengers from Flathead Lake communities would police the 18-wheelers driivng through.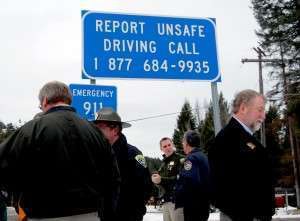 As he told the Missoulian newspaper reporter Vince Devlin, whose full story is available here, ""If they're 2 or 3 miles an hour over the speed limit, we probably won't do anything. If they're 5 or 10 over and we see a pattern, we'll call the company and explain the situation — that there are a few in the industry giving us all a bad name. We'll give them an opportunity to correct themselves, but the next time we'll turn them in."
Reminds me a little of the truckstop urinator watcher I wrote about here. What do you think?