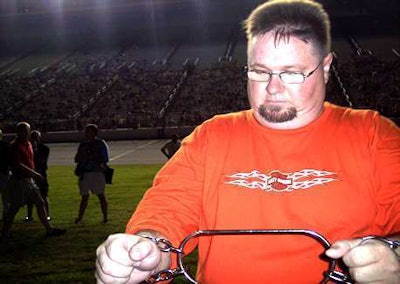 In the November issue of Truckers News, my editor and colleague Randy Grider wrote about Michael Mooney (pictured) in his lead column, "Magic Man." Mooney, a performer based in Cartersville, Ga., is deft with all manner of magician's tricks, but he also has a compelling story to tell, which he never misses the opportunity to do.
One of his regular haunts, the TravelCenters of America location in Cartersville, offers plenty such opportunity, in addition to what he views as chance to give back to the group of people who kept him going during tough times: the nation's truck drivers. As Grider wrote in the his story, "Mooney isn't a trucker himself, but he calls truckstop his 'second home,' and truckers — whether he knows them personally or not — are his extended family."
Mooney spent many years down on his luck and essentially homeless, during which time the kindness and generosity of the nation's haulers got him through, and back on his feet. At the Cartersville TA, he says, he can often be found performing for drivers gratis, or offering a ride to Wal-Mart nearby or elsewhere. "I've taken guys 100 miles to the Freightliner dealership to get a part for the truck," Mooney says. "They were good to me back when, so I'm trying to return the favor. I do it on my own. If I don't have anything to do, I just offer my assistance to them." And, of course, he may "show my magic tricks off," he adds, along the way.
Watch for him elsewhere — he's lately put out feelers to industry reps and may take his act to some of the major truck shows this year, with any luck. He's open to working trucking company events, too, he says. "This means a lot to me – like I said, I lived at truckstops for a time, and I'm not the only one. There are many homeless people out there in truckstops – truckers' kindheartedness, generally, allowed me to get back on my feet and I'm sure has helped many others over the years.
"I'd be happy with doing more shows for drivers. I think it'd be awesome, and the thing is, I'm not out to get rich or anything, just to cover my expenses and have a little in my pocket when I'm done."
To see an example of his show, complete with magic and testimonial, check out the video at this link.