Beth Brelje, writing in the Pocono Record of Pennsylvania, visited with several truckers waiting out a snowstorm in a Wal-Mart parking lot off I-84. Such waits have been legion for the nation's haulers this season, with record amounts of snowfall hitting places where a snow deluge is not such a common thing. It may be common enough in the northern state of Pennsylvania, of course, but not such that authorities didn't move to ban truck traffic on I-84 at a certain point in the day.
It put independent owner-operator Scott Haley (pictured; photo by Brelje — click it for her full story) 14 hours off-schedule with a load of large cable spools bound for Texas, Brelje wrote. Weigh that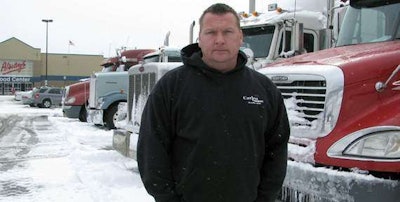 against potential fines of anywhere from $50-$500, though, and potential extra liability for any crash involvement, whether his fault or not, during the commercial vehicle ban, and Haley was unequivocal in his decision to get off the road, despite the fact that many other truckers were ignoring the ban.
"For some, ignoring the ban cost time anyway," wrote Brelje. "An eastbound tractor-trailer jackknifed on I-84 in New York long after the ban went into effect. The driver had to go through Pennsylvania to get there." Jackknifing is the most extreme consequence of driving in unsafe snow conditions, and there have been plenty instances of those this year (you may remember Baltimore columnist Michael Dresser's hyperbolic declaration of jackknifing truckers as "Public Enemy No. 1" in mid-February). There are many other possible crash outcomes, of course, which will cost you time and money well above what stopping for a few extra hours safely will. Most drivers know how best to stay out of crashes — if it gets bad enough, just shut down the rig.
Click on the thumbnail image of operator Haley for Brelje's full story. And stay safe out there.