Musician Susanne Spirit's shows three times weekly at the TravelCenters of America-East location in Ontario, Calif., are a combination of country performance and public outreach to and from the nation's truckers, with one of their prime components offering pet-adoption services to drivers, finding loving, rolling homes for those cast away.
Spirit and co. recently found a high-profile pet of its own in Jackson, a Weimaraner/Pit Bull mix adopted from the Rancho Cucamongo, Calif., animal shelter that partners with Spirit's show to match abandoned animals with new owners. Jackson was found at a hotel in Beaumont, Texas, late last month with the shelter's tag still around its neck. After contacting the shelter, Beamont Animal Control found themselves in contact with Spirit, who reached out to her online community of truck drivers to find transport for Jackson back to their location in California.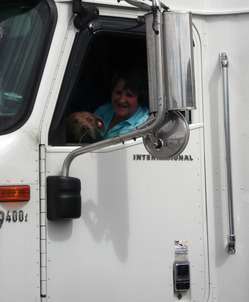 Happy to help out was Cathy Barber (pictured), a YRC driver whose dispatcher and company helped schedule her a load from Ontario to pick up Jackson in Beamont, from there to Chicago, then transporting him back to California and the TA East in Ontario for a March 7 celebration of his arrival, making it a 5,000-plus mile haul. He's now serving as the Mascot for Spirit and co.'s "Musical Doggie Adoption" events. For more about him, see Spirit's page for Jackson here, and click on the picture of Cathy Barber and Jackson for video with him, Spirit and Barber.