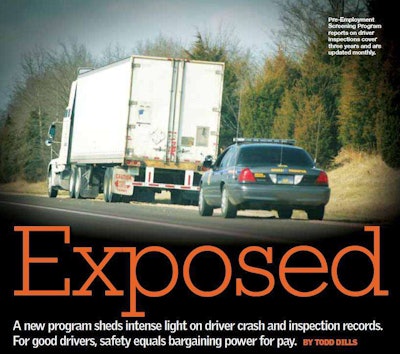 It's not all about DAC anymore. With CSA 2010 carrier scores in six of the seven violation categories in CSA 2010 set to go public beginning in December, carrier attention to inspection reports has ramped up to a high level — for drivers, a primary piece of the regulatory puzzle in all of this is the somewhat new Pre-employment Screening Program, mandated by Congress years ago, which gives carriers access with applicant consent to a potential driver hire or lessee's most recent three-year inspection history. For the first time.
I looked at the subject in Overdrive's current issue, out now, and will be discussing the Pre-Employment Screening Program story with AsktheTrucker.com's Allen Smith Wednesday, Oct. 6, at 5:30 eastern, on his Truth About Trucking online radio show. Have you seen your PSP report? Call in and tell us what you found.
A bracelet for St. Christopher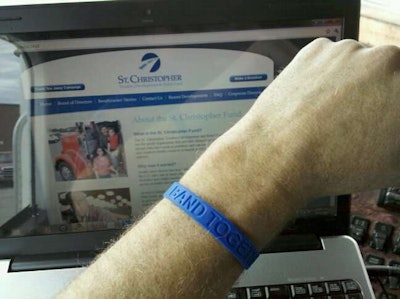 After my post from yesterday about the St. Christopher fund's online storefront with Just Love Coffee, Fikes-leased owner-operator Scott Grenerth coincidentally posted this photo to Facebook, proudly displaying the "band together" bracelet now on offer at TA and Petro stops for a $1 donation to the St. Christopher fund, the money supporting the organization's efforts to assist truck drivers in medical emergencies or without insurance. "As much as I can NOT stand wearing anything that even resembles jewelry," Grenerth wrote, "I'm proudly sporting this!"
My video interview with Grenerth from earlier this year about this TruckerCycler.com website — and more — is embedded below.
[kaltura-widget wid="5fi8owlcwo" width="400″ height="365″ addpermission="" editpermission="" /]