Owner and part operator Jeff Underwood of Jeff Underwood Trucking is on the haul of a lifetime. Read Underwood's story, published in the Atlanta Journal-Constitution Wednesday ahead of his planned stop in his hometown of Dahlonega, Ga., next week, and you'll come away feeling the same anticipation and pride it's clear he does for his role in moving the U.S. Capitol Christmas tree, a mammoth spruce cut from a Wyoming national forest as part of a yearly tradition.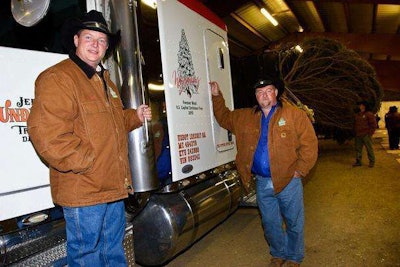 He's hauling it across the country beginning today, after a weeklong tour of Wyoming towns, making stops along the way, including in Dahlonega in north Georgia starting next Wednesday. Click on the thumbnail photograph of Underwood (by David J. Swift for the Consitution) and a fellow Jeff Underwood Trucking driver for the full story.
And in case you're wondering what it takes to keep a near 80-foot tall tree alive on its route to across the country to Washington, D.C., here's what AJC reporter Howard Pousner had to say about that: "The tree is protected from the elements by a hard cover, with Plexiglas windows across the sides for viewing. Each night, it gets a 65-gallon drink of water, poured into the rubber bladder surrounding the base."
A huge endeavor, Underwood told Pousner the journey would cost him $50,000 or more, but that the "once-in-a-lifetime deal" was well worth it for the experience.
Read the full AJC story.