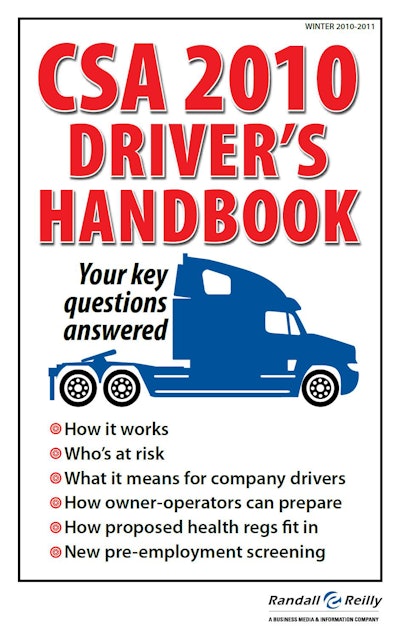 You may have seen it out at the truckstops already, but if not, I thought I'd take a moment today to alert you to our CSA 2010 Driver's Handbook, now online in an interactive digital version. Combining reporting from Overdrive and Truckers News editors (from myself to Overdrive Managing Editor Lucinda Coulter and others) with information provided directly by the FMCSA dispelling some of the common myths and misconceptions out there about the program, it's a handy resource for the uninitiated. It contains features detailing the broader program as well as the Pre-Employment Screening Program and related health regulations.
Comprehensive Safety Analysis 2010's carrier scoring methodology goes live in just a couple of weeks (Dec. 5 is the latest date). Know what you can reasonably expect, as a driver or owner-operator, with this handbook and by staying abreast of ongoing coverage in Overdrive and Truckers News.
Download the CSA 2010 Driver's Handbook.
Read my last related post, about potential for CSA 2010 to ripple into the area of driver pay. A related post likewise at Allen & Donna Smith's AsktheTrucker.com is well worth the read.
***Also, tonight, Nov. 17, tune into Land Line Now on XM channel 171, Sirius 147. Overdrive 2007 Trucker of the Year Henry Albert says he will be doing an interview about his candidacy for a seat on "OOIDA's alterate board," he says.