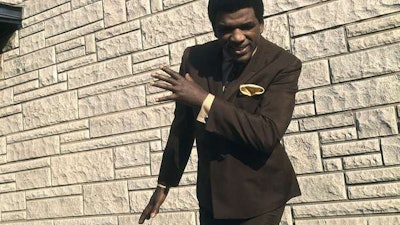 I bet you can guess just where, right?
Syl Johnson (pictured) is a Mississippi-born singer-songwriter who came of age in the late 1950s and 1960s in Chicago — he's perhaps best known for the "Is It Because I'm Black?" single penned and released in the wake of Martin Luther King Jr.'s assassination in the late 1960s but today has fallen into relative obscurity in spite of his clear contribution to early funk. National Public Radio ran a piece on a new box set yesterday collecting his early work — Syl Johnson: The Complete Mythology.
Like many of his generation and ours, while getting his legs as an artist Johnson supported himself with more stable work in the mid-1960s by driving truck for UPS, according to NPR's Oliver Wang. Click on the thumbnail image above to hear Wang's full story, including some of Johnson's music.
Also, if you missed Lucinda Coulter's Veteran's Day post on OverdriveRetro.com today, check it out on her Overdrive Retro blog, chronicling pieces of Overdrive's 50-year history in this its 50th year as the "Voice of the American Trucker."