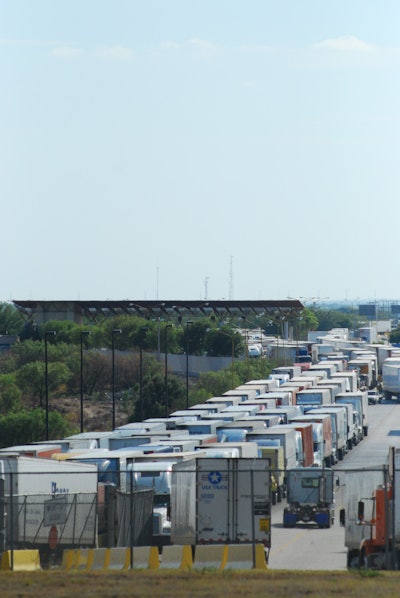 In a story that aired on National Public Radio's "All Things Considered" program Monday, John Burnett dropped what is to my thinking a recently developing bombshell on hopes from some that a resolution to the U.S.-Mexican cross-border trucking stalemate would be soon in coming. "In Nuevo Laredo," he wrote, site of the high-volume trade border crossing in the World Trade Bridge (pictured, from U.S. side), "the Gulf Cartel is battling the Zetas for control of the plaza, whose prize is" said bridge. Mexican drug cartels, Burnett reported, have moved trafficking-to-market strategies from now-well-guarded remote areas to infiltration of Mexico's shipping community. Increasingly, contraband is being found hidden among legitimate goods moves.
Mexican carriers, according to NAFTA, should long ago have had access to international shipments into the U.S. interior and for return trips, just as Canadian haulers have had for many years. (U.S. carriers, too, should have reciprocal access to Mexico's interior.) Read my story on the cross-border-trucking subject, published in July 2009.
But just as drug cartel violence has escalated this year and been declared a national security threat, "78 percent of all security breaches to the U.S. customs'" Customs-Trade Partnership Against Terrorism this year, Burnett reported, could be linked to Mexican trucking companies. The C-TPAT program inspects and preclears companies' shipping security protocols to ensure the safety of freight coming into the country. Be aware, though, that it's not necessarily the drivers that are to blame, many of whom are often found to be unaware of what they're moving. Burnett well elucidates this in his story.