Friday I reported from the site of the first annual Chrome & Class Truck Show at the Nashville location of Rush Truck Centers just east-southeast of downtown in Smyrna. If you missed it, read about the first day at Nashville Rush, a story largely about the Eady family of truck owners/builders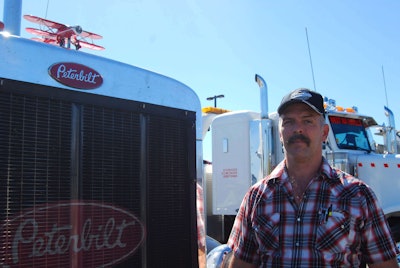 from Hillsboro, Ala., and their custom 1996 Peterbilt 379, built from the ground up by brothers Hayward and Hayden and run by their father, Rex, leased to Cardinal Transport of Coal City, Ill.
They weren't the only showgoers out, of course; among the 37 trucks competing, with an additional 15 showing after the deadline for the competition had passed. Among them was Ed O'Connor, pictured with his Peterbilt. An aviation enthusiast on his way to obtaining a pilot's license, the Lafayette, Tenn.-based O'Connor had perhaps the most unique hood ornament in the field, a model Texaco plane of early 2000s vintage that he custom-fitted to the hood. It helped him fly away Saturday with a solid 3rd in the Working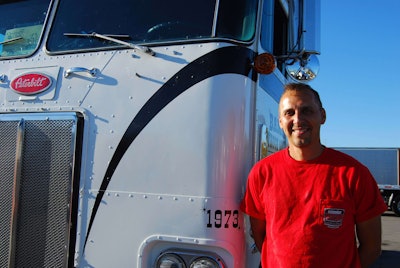 Tractor class.
Up from Alabama, Bob Pettit (also pictured), leased to Bama Truck Line, showed a growing rarity in his 1973 Pete model 352 cabover, one of my personal favorites in the field, decked out with a combination of simple, classic styling with clean chrome and stainless, including a reflective deck plate.
Owner-operator Chris Partain of Russellville, Ala., took big honors with a first-place finish in the working combo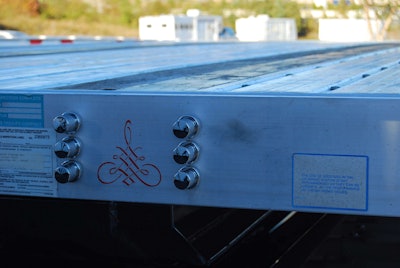 class for his black-and-white 1998 379 with custom red accents carried through to an immaculate Fontaine trailer (pictured, right).
The biggest winner on the lot, though, was West Blocton, Ala.-based Gene McKinney with his tricked-out show class 2000 Peterbilt 379, which took First in its class as well as the People's Choice award — the only truck on the lot getting the velvet-rope treatment, it drew big crowds from among the more than 500 estimated attendees who came out for the festivities.
Keep your eyes open for Chrome & Class this time next year. And until then, enjoy the additional pictures in the photo gallery below.
Following are the full results in the three show classes:
Working Tractor
1st: Kelly Lynn Boles, Livingston, Tenn.
2nd: Mark Wright, Lebanon, Tenn.
3rd: Ed O'Connor, Lafayette, Tenn.
Show Class Tractor
1st: Gene McKinney, West Blocton, Ala.
2nd: Ronnie King, Jamestown, Tenn.
3rd: Tobby Donalson, McMinnville, Tenn.
Working Combo
1st: Chris Partain, Russellville, Ala.
2nd: Brad Morgan, Campbell, Ala.
3rd: Kenny Hallmark, Loretto, Tenn.
Antique tractor
1st: Tobby Donalson, McMinnville, Tenn.
2nd: Burt Dyer, Chapel Hill, Tenn.
3rd: Bill Blankenship, McMinnville, Tenn.
Antique Combo
1st: Terry Curry, Athens, Ala.
[imagebrowser id=8]