Rex (left) and Hayden Eady are the father (owning and operating) and son (building, along with Hayden's older brother Hayward) pair behind the 1996 custom-built Peterbilt 379 pictured. The Pete, powered by a Caterpillar 3406B and 15-speed tranny, was responsible in large part, says Hayden, for the rechristening of the latter's Hillsboro, Ala.-based Hayden's Truck Repair business as Eadybilt Customs in 2005. With all the custom work his brother and he put into their father's truck, rebuilt from a wreck — the hood, for instance, fashioned from three different salvaged noses and the stand-up sleeper chopped to fit the elder Eady's flatbed hauling business, leased to Cardinal Transport of Coal City, Ill.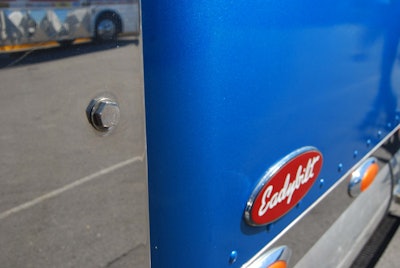 –he built relationships with custom parts manufacters that were solid enough, he says, to keep that area of the business going strong. (Next project: In line at his shop, he says, is a Pete 362 cabover he's going to be giving a full custom treatment.)
The 379 is a hardworking truck, appropriate for the hardworking pair, who are showing it today as part of the Nashville Rush Truck Center's first annual "Chrome & Class Truck Show," ongoing today through 10 p.m. and Saturday, Oct. 16, from 8 a.m.-6 p.m.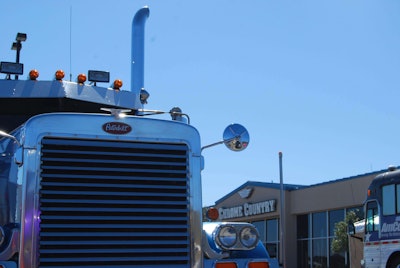 According to the RTC store General Manager Trey Golden, the folks at Rush wanted to "do something to appreciate all our trucking customers in Tennessee. It's been a tough couple years…and now we really see things getting better and we wanted to have a party and tell everybody we appreciate them and love what they're doing."
Industry sponsors set up in a covered vendors' display area include among many others Peterbilt, Caterpillar, Cummins, Eaton, Bendix, Bridgestone, Fibertech, Traktr Chrome, RigTough Parts, Horton and ProTech.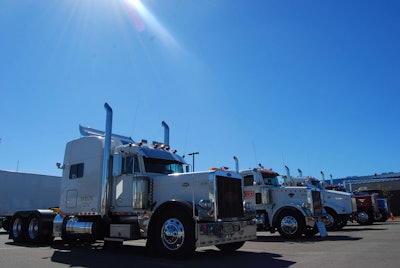 Raffle giveaways include a flatpanel TV, Tennessee Titans football tickets, Talladega Superspeedway NASCAR tickets, and more.
Rush Truck Center (including the on-site Nashville Chrome Country location) gift certificates of $500, $250 and $100 in three categories — antique, working and show classes — will be awarded to first, second, and third place finishers in the truck show. Entrants have until 8 a.m. Saturday morning to register for the competition.
In terms of entertainment, as I wrote yesterday, expect Keys Trucker Jan McCarter with Truckers Tracks producer Doug Jones and others to perform, along with the main act, tonight, in Reality Shock of Chattanooga.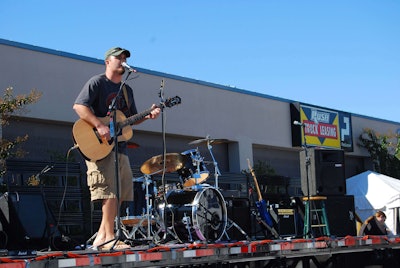 Today, around 1:30 p.m., songwriter and parts salesman for Rush's Haines City, Fla., location, Eugene Roberts (pictured, and who will be performing throughout the two-day show) started up the live sound check, appropriately for the location, with what my be may all-time personal favorite among the lot of country songs, Waylon Jennings' "Are You Sure Hank Done It This Way?" Sing along with me if you would…
Somebody told me, when I got to Nashville
'Son, you finally got it made'
Old Hank made it here, and we're all sure that you will…