North Carolina Wake County Sheriff's Deputy Brandon Jenkins had to sit in his cruiser for upwards of 15 hours yesterday after a truck driver under a load of honeybees had been disabled west of Raleigh. "The truck driver," CNN reported, was on his way to Rocky Mount, N.C., and "had been hauling the bees at night, when they are quiet and not apt to fly."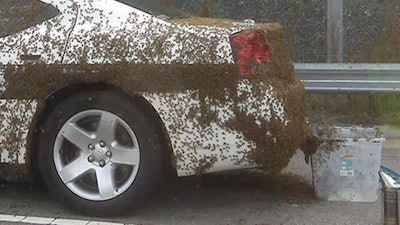 Jenkins responded to a report of someone "possibly being attacked by bees," CNN reported, when he parked near the truck and trailer, which were soon towed, "leaving [Jenkins] still in his Dodge," trapped as bees covered the majority of the rear of his cruiser. The bees, it seems, were naturally wound up in the presence of a bear.
Don't believe me? Check out video of beekeepers from North Carolina State University de-beeing the cruiser via CNN. Or click the thumbnail of the photo above by Shae Crisson for Raleigh-Durham ABC affiliate WTVD's coverage.