High-tech diesel thieves
You know fuel prices are bad when you start seeing reports such as the one published yesterday via the website of Central Florida's WFTV. "Some long-haul truckers found a new way to steal diesel, Marion County deputies said Wednesday," WFTV reported. Deputies apparently arrested three separate haulers who were passing off a gagdet to hijack fuel pumps at an I-75 Pilot electronically.
Asked about the device used, Pilot manager Steven Freant told the station "it's some kind of circuit board type that the criminals plug into our pump to try to override our system," allowing theives to circumvent the pump's electronic controls and pump fuel free.
What do you get in terms of punishment for doing that? "The three truckers are facing felony charges for grand theft, fraud, and illegally using a scanning device," the station reported.
New 'American Trucker' episode features three custom shops
American Trucker's premiering episode in March 17 and 18 broadcasts is "Hauling in Style," and host Robb Mariani and crew therein visit three shops that may be familiar to Custom Rigs readers. They range from a well-known shop associated with a dealer location to a shop whose owners jokingly call it "Tin Can Customs" it's so small.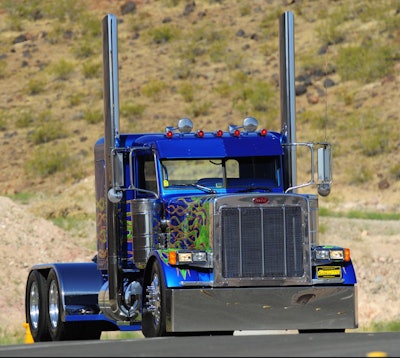 The New Jersey Elizabeth Truck Center, one of the visited shops, is profiled at the Custom Rigs site, as is the Texas Chrome Shop at Triple R Diesel. The third shop is that of Jeff Botelho and crew of Botelho Bros. Trucking's Botelho's Custom Trucks of Los Banos, Calif., whom I've talked to very recently preparing a piece for Custom Rigs' next issue about Botelho's "5150" Pete 379 (pictured, photo by Bruce W. Smith); for more on the Botelhos, keep it tuned to Customrigsmag.com or tune in tonight. Speed Channel schedule for American Trucker follows for Eastern time, and for info on rebroadcasts upcoming the next couple weeks, visit this page.
Haulin' in Style episode: 10 p.m. Thursday, 1 a.m. and 10 a.m. Friday
Special Forces episode (about the rebuild of a 1983 Peterbilt 362 cabover for an active Special Forces soldier): 10:30 p.m. Thursday, 1:30 a.m. and 10:30 a.m. Friday