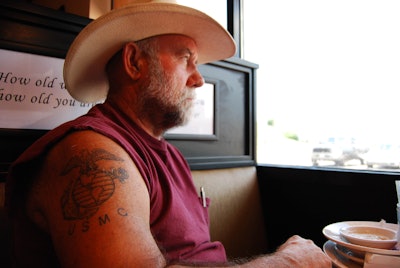 I caught up with Overdrive 2010 Trucker of the Year Mike "Mustang" Crawford (pictured) last week. He called with the news that, should he make the next 37,000 miles or so without a preventable accident, he'll have put a grand total of 3 million safe miles on the Detroit engine in his 1994 Freightliner.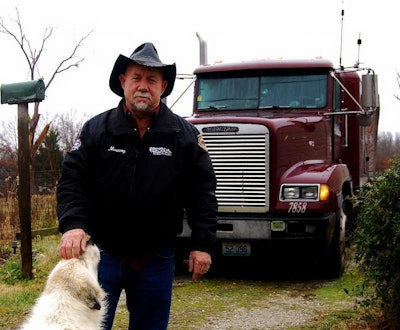 One of those rather rare long-term lease-purchase success stories, he started in the truck brand-new with Prime, whose main Springfield, Mo., terminal is close by his Long Lane, Mo., home.  He ran in it "as a company driver for three weeks," he says. "Then I leased the truck and was a leased operator for four years," after which he owned the truck outright, continuing his lease to Prime. Ultimately, he got his authority over a year ago now and runs freight primarily from longtime partner Prime's brokerage wing.
My question — and his — for you: Is there anybody else out there who, as a solo driver, has put 3 million consecutive accident-free miles on the same truck?
Crawford's heard of "one or two guys out there with 7 million miles of accident-free driving" — and Prime itself has a few 6 million milers, he adds — but he knows of no one in his unlikely position. Ever quick with a joke, Crawford describes his reasoning for staying in the truck this way: "I don't feel like cleaning it out — it'd take me a month and a half." Also: "I wish I could have kept all the money I made with it."
On a more serious note, he attributes the truck's (and the engine's, with only a single in-frame overhaul) longevity to, primarily, three things.
"Number one," he says: "I change the oil religiously every 20,000 miles. I used to change it at 15, then Detroit told us if we were using Mobil we could go to 20."
2. "Every oil change, I put in two gallons of Lucas oil treatment. … I'll use a couple of gallons in 20,000 miles, but I got almost a million-seven on the engine before the one engine rebuild — and that was just an in-frame rebuild."
3. "The other thing is I don't push it — I don't run at 80. If the right lane's real rough, I'll ride in the left lane. I don't have to reach the finish line ahead of Jeff Gordon."
It hasn't hurt that the truck, he says, has been throughout its life more or less like a good Timex — it takes a lickin' and…
Wish him luck for the next 37K. Roll on…