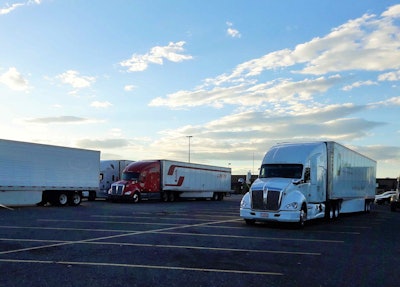 For drivers intending to use the hours of service's personal conveyance provision under the electronic logging device mandate, particularly in light of the U.S. DOT's late-May decision to provide some flexibility to use personal conveyance mode to find safe parking, two key elements must apply, says Joe DeLorenzo, head of enforcement for the Federal Motor Carrier Safety Administration.
One, the driver must be off duty and, two, the movement of the vehicle must be for personal purposes only, said DeLorenzo in a webinar held Tuesday by ELD supplier EROAD. There's confusion "about whether it's another line or whatever" on drivers' logs, he said, "but in this case it's important to know a driver has to be off duty, and that's where the whole determination as to whether it's legitimate personal conveyance starts. Because we're focusing on the intent of the movement, whether the vehicle is loaded or unloaded doesn't particularly matter."
The agency in late May announced it would allow drivers to enter into personal conveyance status to find the nearest safe location to park or rest should their hours be exhausted by detention at a shipper or receiver. Personal conveyance status has been in place since 1998, said DeLorenzo, "but it has come more to light with the implementation of ELDs. We realized we needed to do some additional guidance," he said Tuesday. The agency also said it would allow drivers to use personal conveyance status if they need to move at the direction of a law enforcement officer.
He provided a few examples of proper use of personal conveyance, and examples of improper use.
Drivers commuting to and from work can use personal conveyance status, he said, which do not count against a drivers' 14-hour on-duty time their 11-hour drive time. However, a driver under dispatch leaving home en route to a load is considered on duty, he says, and therefore cannot use personal conveyance. "If you stop at the yard the night before and picked up the load and brought it home and you travel to your point of destination from there" — that's all on-duty time, DeLorenzo said. "Operating at the direction of a motor carrier is not considered to be off duty."
A driver who is forced away from a shipper but is over hours can use personal conveyance status "purely to go to a safe location to get rest," he said. "It doesn't matter what direction, it may be proceeding in the same direction as the load. That's OK as long as it is the nearest safe location where you can get rest after those hours expire. That is a new piece to this guidance that will be helpful to a lot of folks trying to address situations that come up at the last minute."
Drivers using personal conveyance status in these scenarios will need to annotate their logs to note the reason for the move to make clear to enforcers that it was personal conveyance to find a place to park and rest.
"On the flip side," DeLorenzo noted, "any movement to enhance operational readiness" should be recorded as on-duty time. "Is the purpose [of the move] to get the load closer to where it needs to be? You can't bypass rest areas to keep going and get further along," he said. "If your 11 hours expire and you're going to a rest area continuing in your direction, you can't use it to extend your day. That's not considered personal conveyance."
Likewise, driving bobtail or with an empty trailer to retrieve a load is on-duty driving time, as is heading back to a terminal or yard after dropping a load. Trips for maintenance or for fueling are also on-duty.
To annotate personal conveyance use, drivers can either select the personal conveyance mode on their ELD (devices are required to have a personal use function) or simply log out and then annotate the beginning and end of their personal conveyance time.
Personal conveyance status does not exempt carriers or drivers from other regulations, said DeLorenzo. Drivers are still required to take their 10-hour break (from which personal conveyance draws) and are still required to adhere to all equipment standards.