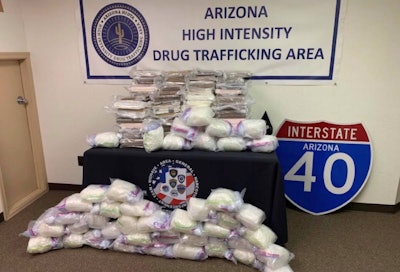 Trucking news and briefs for Wednesday, Feb. 26, 2020:
Drug and alcohol clearinghouse use by roadside enforcement detailed in new inspection bulletin, updated out-of-service criteria
The Commercial Vehicle Safety Alliance's updated 2020 North American Standard Out-of-Service Criteria is now available. The new criteria go into effect on April 1, 2020. The criteria identify critical vehicle inspection items, and detail just what can be cause to prohibit a motor carrier or driver from operating a commercial motor vehicle for a specified period of time, or until the condition is corrected.
The 2020 version replaces and supersedes all previous versions, CVSA says, and the relatively few changes to this year's edition of the manual are detailed in this document at the CVSA website. Included among the changes, for instance, are removal of defective sway bars from out of service criteria, removal of references to now disallowed Automatic Onboard Recording Devices from certain OOS criteria, and more.
Perhaps the most significant change has to do with additional out-of-service criteria related to drivers who fail a drug test reported to the Federal Motor Carrier Safety Administration's new drug and alcohol Clearinghouse database and who are required to complete return-to-duty procedures to get clearance to haul again.
As per a new inspection bulletin available at this link, such drivers' eligibility information is accessible via law enforcement lookup tools (including FMCSA's Query Central and the CDLIS database), and drivers as of April 1 will be placed out of service if found to be operating before cleared for duty.
The new inspection bulletin spells out:
Prior to April 1, 2020, if a driver is found to be operating in a prohibited status, the inspector should cite a violation under 49 CFR Part 390.3 and forward a copy of the inspection report to their local FMCSA office for follow-up action.
On and after April 1, 2020, this violation will be an out-of-service condition in the Commercial Motor Vehicle Safety Alliance North American Standard Out-of-Service Criteria and the driver will be placed out of service if found in a prohibited status.
Examine the full spectrum of OOS criteria changes via this link.
CVSA offers different formats of the new out-of-service criteria, including a spiral-bound, hard-copy handbook, an electronic PDF file with a restricted three device and/or web browser limit, a Spanish and bilingual English/Spanish edition, and French Canadian and bilingual French Canadian/English editions ($35-$75, depending on edition and CVSA membership status). On April 1, when the changes go into effect, the updated OOSC app will be available by searching "CVSA" in the Apple or Google Play stores ($24.99). The app contains the out-of-service criteria, along with inspection bulletins, pictorials, the learning management system for online training, inspection procedures, operational policies, inspection and educational videos, brochures and webinars.
Trucking co. employee gets jail time for emissions violations
Brian Mellott was sentenced to six months in prison, one year of supervised release and 50 hours of community service after pleading guilty last year to charges related to violating the Clean Air Act, according to the Department of Transportation's Office of Inspector General.
Mellott is a former inventory and logistics analyst at Pennsylvania hydraulic fracturing company Rockwater Energy Solutions, which allegedly installed emissions defeat devices in its trucks to bypass state inspection regulations.
DOT OIG says he admitted to "impeding FMCSA's ability to implement and enforce Pennsylvania's annual inspection standards for commercial motor vehicles."
Police seize $12M in cocaine, meth from tractor-trailer
The Bullhead City, Arizona, Police Department announced it recently seized more than $12 million worth of cocaine and methamphetamine from a tractor-trailer during a traffic stop on I-40.
Detectives with the Mohave Area General Narcotics Enforcement Team, with the help of a K9, located approximately 168 kilograms (370 pounds) of cocaine and 220 pounds of meth with a combined street value of approximately $12.7 million.
Police arrested Beyan Mohammed Beyan, 30, and Samatar Shafi Ahmed, 36, for transportation of dangerous drugs and narcotic drugs for sale.
Alabama trucking school owner pleads guilty to bribery scheme
James F. Welburn, of Fortson, Georgia, pleaded guilty Feb. 11 to conspiracy to commit bribery and fraud during a scheme to defraud Georgia's CDL program, according to the Department of Transportation's Office of Inspector General.
Welburn is the owner and president of American Truck Driving Academy, a CDL school in Opelika, Alabama. According to a plea agreement, he issued cash payments to a third-party CDL examiner at the Georgia Department of Driver Services for each ATDA student tested. The agreement adds that Welburn intended to influence the examiner to give ATDA students favorable treatment during CDL exams.