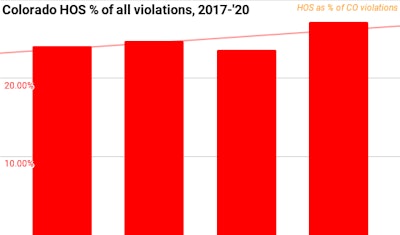 Heads-up, operators traveling I-25 north or south around Colorado Springs and Denver – a reporter with the KOAA NBC affiliate for the Southern half of Colorado recently spoke with a couple State Patrol inspectors, one of whom works out of the scales in Monument there and who emphasized a lot of what all of you know about the coops all around the nation. Inspectors are there to do a job, in the words of KOAA's Patrick Nelson: "The main focus is to make sure the big rigs are operating properly, are not oversized [or have the right permits ... my addition], and that drivers are licensed and not driving more hours than they should."
No surprise there, but another Patrol officer also stressed areas east of Colorado Springs where the patrol has focused on mobile spot checks more in recent days, and setting up on known scale-bypass surface routes to find some they felt who were "trying to avoid us," as he told Nelson. It's also a common-enough practice of state troopers around big scale facilities elsewhere.
Keep it in mind before you take the long way around just to avoid the chance of an inspection hassle. (At once, if the time spent is no big inconvenience, you might take the view of many an operator and look at such a hassle as extra insurance against an unforeseen equipment failure and even future hassle, provided the inspector does a thorough job on the vehicle portion of the inspection. Thank a trooper for that inspection, maybe?)
In Colorado, equipment inspection appears to be less of a priority than driver checks of late. For year 2020, the state's vehicle-related violations accounted for just around 65% of the total violations written there, well below the national average of 76%. Also, Colorado has trended heavy on hours of service enforcement in direct contradiction of the national downward trend in violations, according the numbers compiled in our long-ongoing CSA's Data Trail series. On hours enforcement in particular, when it comes to prioritization by enforcement, in Colorado the trend is up: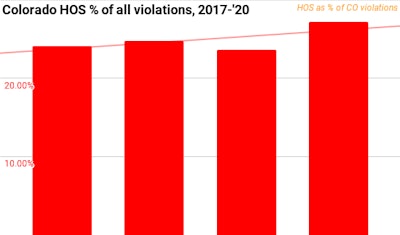 Keep that in mind come the first week in May. In addition to lighting equipment, the focus for this year's international Roadcheck event, set for May 4-6, is the hours of service.
Keep tuned for further reporting on inspection and violation trends state-to-state next month. Read Nelson's story for KOAA in full via this link.
Pro tip for good road eats
If you're not packing Thomas Remington's "Trucked-up Chili" on your run, keep this place in mind on I-70 in Indiana.
It's an easy spot to miss, though across the way from a Love's and on the site of a Speedway stop -- the Gas Grill Family Restaurant in Knightstown, Indiana, at exit 115 on I-70. Open 6 a.m. to 10 p.m., AK Trucking hauler Scott Reed was stopping in there around noon today in the 2019 KW W900 he drives for Greg Anderson (leased to Woof Trucking). "It's like homecooked food" at Gas Grill, Reed said. "They're really famous for their pork chops," though he's not had them yet. "I've had their steak and chicken, and a very good chef salad. It's a big salad – comes in a big wooden salad bowl. They make their own tea – everything's like a four-five course meal – you might spend $15-$16 like you would at a truck stop – but you get the salad, the main course, two sides and desserts offered with the meal as well. If you go away hungry form this place, it's your own fault."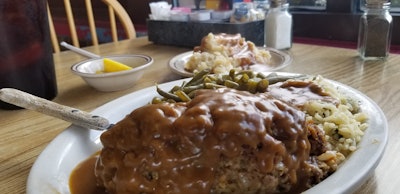 If you stop in for a try, tell 'em we said hi.