Let's start with one you can do at home for your next run. Keep in mind, too: Chili generally is very flexible, allowing you to tailor it to your liking.
Why chili? It's versatile -- you can use it so many ways. Chil-mac, hot-dog toppings, chili-cheese fries and potatoes. Cincinnati-style with spaghetti, chili-burger. It's easy to transform it in a multitude of ways, too. It keeps. One of the best parts about making this recipe at home is you can package it into serving size portions to take on the road.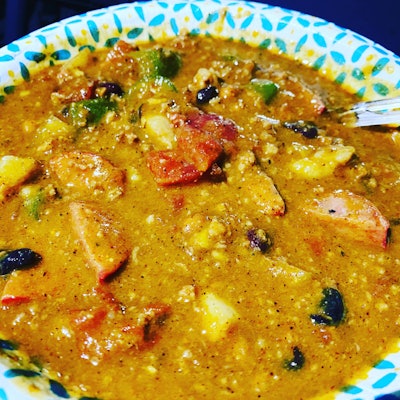 Following is the base recipe. When I made it recently, I cooked in my multi-use pot in my truck. At home, a stew pot works just as well, likewise a Crock Pot or other slow cooker.
HERE'S WHAT YOU WILL NEED
1 lb. ground beef (80/20 lean/fat works best.)
1 lb. ground pork sausage (Jimmy Dean, Tennessee Pride, etc.)
1 large onion, diced
1 large green pepper, diced
1 14- or 15-oz. can kidney beans (All cans in this recipe are of this size.)
2 cans cooked pinto beans or chili beans
1 can red beans
2 cans diced tomatoes
6 small cans V8 juice (I used the spicy for mine.)
4 tablespoons minced garlic (not the powder)
2 tablespoons black pepper
1 teaspoon liquid smoke
The base recipe is flexible enough to make this any way you like. Whether you like it mild and basic or hot and wild, this will work! Here are a couple ways to doctor it up.
If you like it with some kick, add any of the following:
2 serrano chiles (diced)
2 tablespoons chili powder
1 teaspoon cayenne pepper
Three hot-link sausages, diced
1 small can chipotle peppers in adobe sauce
If you like your chili thicker, add a quarter-cup of corn meal the last hour of cooking.

HOW TO DO IT
Combine all ingredients in pot. Do not drain the cans -- you want the liquid for flavor and to help thicken the chili. When you add the ground meat, pinch it into the pot as it will cook as the chili cooks and add variable flavor to the chili.
If cooking in a slow cooker, set to low and cook eight hours, stirring occasionally. If cooking in an Instant Pot or other multi-cooker, set to high on in the slow-cook mode and cook six to eight hours, stirring occasionally. (Using a cooking bag with these can really help with cleanup.)
If cooking on a stovetop, start on high heat until you reach a gentle boil. Then reduce to a slow simmer for four hours.
With all cooking methods, if you are adding cornmeal to thicken, do this the last hour of cooking. Add a little bit at a time to prevent clumps. Stir well to incorporate completely.
You may notice I did not call for any salt. Given the sodium in the sausage, among other ingredients, I feel it's unneeded, but you can always add it to taste. The same goes for your favorite seasonings.
This recipe forms a great base from which to build to your own preferences. Happy hauling, happy eating!
If you've got your own ideas for Remington for this series, find him via his Instagram and/or Facebook social profiles -- where you can find plenty more of his culinary creations -- or email Overdrive Senior Editor Todd Dills directly at tdills [at] randallreilly.com.