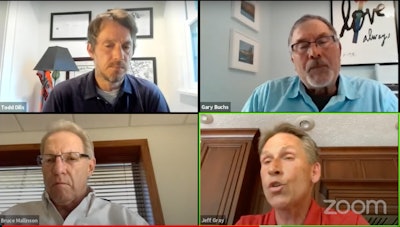 If certain aftertreatment system problems seem mysterious, that's often no accident. Much of the discussion among panelists in an Overdrive webcast last week centered around misdiagnosis – by the truck owner as well as by some technicians – and insufficient communication among those parties. Both failures too often contribute to unnecessary repair costs and prolonged mechanical problems.
The hour-long event, "Dealing with diesels' aftertreatment demons," was moderated by Overdrive Senior Editor Todd Dills with panelists Gary Buchs, Bruce Mallinson and Jeff Gray.
Buchs, a longtime owner-operator who now coaches owner-operators, cited an example of successive stabs in the dark experienced by a client and longtime friend of his, John Osinga of Lynchburg, Virginia.
Osinga's trouble started as his 2015 model truck, which he bought in 2019 with 377,000 miles and a new diesel particulate filter, approached 500,000 miles in 2020. Dash warnings led to getting various sensor replacements, which in retrospect were only "Band-Aids," Buchs said. Soon after, the de-rate warning lit up. Facing an imminent shutdown, Osinga had the truck towed for computer analysis at the last shop that had worked on the aftertreatment system.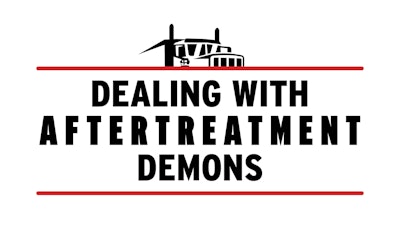 "What the computer couldn't tell them was that it had a broken part inside," Buchs said. Various other parts were replaced, some in vain, as continued testing revealed more than one problem. (Buchs detailed Osinga's six-month repair effort in a recent blog.)
"It really got me thinking about how many times we get ill-diagnosed or misdiagnosed, and how much money that's costing," he said.
Surveying a small group of his owner-operator clients, Buchs said he found that at least half reported spending more than $15,000 a year on repairs and maintenance specifically related to their aftertreatment systems. For those whose trucks reached a certain mileage, they averaged $10,000 to $14,000. "A half-million miles seems to be the breakpoint."
One of the biggest emissions-related problems he's noticed has been on certain older trucks, from the early years of of the diesel particulate filter and diesel exhaust fluid systems, said Gray, who owns Gray's Garage, an independent diesel shop founded by his father in 1963 in Pontiac, Illinois. Some trucks have a factory default that shuts down the engine if the ECM senses it has idled longer than the programmed threshold of five minutes without any driver activity. Dealers failed to tell buyers that in those shutdown instances, the driver should key on power only, then wait 10 seconds before cranking the engine, he said.
"If you have an intake throttle valve, an EGR [exhaust gas recirculation] valve, variable geometry turbo – all of those things calibrate themselves when you turn the key on," Gray said. But if you immediately turn the key all the way to restart, "you're going to get all sorts of phantom codes."
More broadly, for diagnosing problems with aftertreatment and other systems, Gray said, "Good owner-operators need to know their vehicle." That means knowing how it sounds and feels when under a load or not, and what typical gauge readings are. "That way, when something does start to happen," the owner-operator will be primed to be able to both notice it and document the changes via the gauges. "What sounds different or what feels different?"
It's critical to relay all such information at the shop to ensure the most efficient troubleshooting, the panel said. "Sometimes it's as simple as 'Does it only act up when it's raining out? Or when you hit a bump?'" Gray said his shop routinely takes trucks out for a road test if there's the slightest suspicion that the suspected issue might not be accurate or complete.
Learning about a truck's symptoms starts when a customer calls for an appointment, said Mallinson, who in 1977 founded what is now Pittsburgh Power in Pennsylvania. "I'm a big fan of turbo boost and exhaust gas temperature," he said, so a customer is asked about exhaust temps and boost readings at different levels.
However, "The majority of trucks, especially ex-fleet trucks, do not have the gauges, so now we start from the beginning," Mallinson said. The customer is asked to begin to "jot down everything you think is wrong with your truck," which then gets relayed when the truck is dropped at the shop.
The main emissions issues Gray's Garage sees are with trucks that are out of warranty and have not been maintained well. "A good portion of it is electrical," Gray said. Lots of problems are with severe service trucks, where mud and other contaminants penetrate "not just in the connections, but in between the harnesses, the sheathing and mounting brackets, and will wear right through."
Some electrical problems will manifest only when it's raining because something has been rubbed enough to malfunction when it's wet, but there is no permanent short, Gray said. Left alone, though, the problem often worsens to become constant. Some such problems can be fixed with a harness repair or replacement, but others can become unrepairable.
As for preventive measures, Malliinson said Pittsburgh Power has had excellent results with a cleaning process by Diesel Force and its own Max Mileage fuel catalyst that it says improves combustion and efficiency. "Keep in mind that if you wait till you have half a million miles, there's lots of soot and carbon buildup in that engine, in the combustion chamber, in the exhaust valves, the EGR valves, the EGR cooler and down through DPF," he said.
The force cleaning, averaging $450 for the first cleaning, is expensive because of the chemicals required. But look inside the head after the cleaning and "it will be bare cast iron," Mallinson said. "You'll think that it's a brand-new head." That's followed by other steps that can involve cleaning the DPF and exhaust system sensors.
Gray said codes related to the DPF can provide a strong clue that it's due for a cleaning when it might not otherwise be obvious. "The exhaust back-pressure is going to be way too high, the DPF differential pressure is going to be too high, the SCR [selective catalytic reduction] efficiency is going to be bad, but yet the sensors all appear to be working correctly."
Buchs noted that the high costs of cleaning or replacing a DPF is a serious deterrent to proper maintenance. Yet, Gray said, "I don't have an alternative other than having it cleaned and tested, or replacing it." Many customers ask about having the component removed, but he explained the engines were designed to run with them, so a removal would be "opening the door to other problems."
Another aspect of DPF maintenance is to ensure you don't do anything to void the warranty. For example, Gray said, "Where you could have a warranty issue, if you've been driving the truck for any amount of time with the engine warning light on, if you've got an aftertreatment system, the DPF is disabled." All such occurrences are recorded on newer engines and readily available to the dealer.