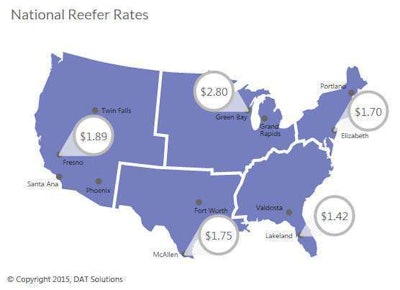 The national all-in average reefer rate, including fuel surcharges, rose a cent to $1.95 per mile last week despite a cent decline in the average fuel surcharge. That average was up from a mid-November $1.93 per mile, and it followed a concurrent 39 percent boost in load availability nationwide on DAT Load Boards, the company said.
Rates trended up in Los Angeles and Fresno, Calif.; Grand Rapids, Mich.; Rock Island, Ill.; Philadelphia; and Miami. In other key reefer markets, rates declined, including: Twin Falls, Idaho; Dallas; Green Bay, Wis.; and Atlanta.
Hot local markets for the week included Spokane, Wash.; Twin Falls, Idaho; Albuquerque, N.M.; Fargo, N.D.; Sioux Falls, S.D.; Omaha, Neb.; Fargo, N.D.; Rock Island, Ill.; Hutchinson, Kan.; Little Rock, Ark.; and Savannah, Ga. Loads originating inland from Savannah in Atlanta, meanwhile, commanded a $2.54-per-mile average last week on the lane to Miami. The turn back to Atlanta, however, shows a low $1.44-per-mile average.
Overall, though, if you can complete the round trip in three days, you'll average $1.99 per loaded mile and $1,300 per day in overall revenue. If delays on the first leg will necessitate a fourth day, consider splitting the return with a load to Charlotte, then another back to Atlanta. Both of those lanes have run at considerably higher rates than Miami-Atlanta over the last week.
The triangle, based on lane rate averages derived from DAT RateView, puts you at $2.13-per-mile for the round, boosting your total revenue by almost $900 as well. Examine the details below.