It's been a mild winter in Ohio, and two of the most hideous household pests from warm months have failed, or just flat out refused, to crawl off and die. Apparently, it needs to be the surface temperature of Jupiter for about a month before Asian lady beetles and stink bugs have the decency to expire and leave us alone.
It's a battle people who live in old farmhouses can relate to. Unfortunately, I took ours to the cab of the truck.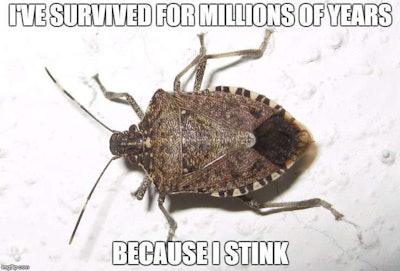 We've been packing to move, which has turned into the third circle of hell itself. While going through a bunch of stuff that hasn't been moved in years, we discovered our mudroom is apparently the center of a stink bug universe. Also, our front coat closet has probably produced more Asian lady beetles than Asia.
I hate Asian lady beetles, they blatantly cloak themselves in cute little lady bug outfits, and don't even get me started about stink bugs. What evil genius designs a bug that stinks to high heaven when you smash it? When it's so gross the cat won't eat it, it doesn't belong in my mudroom.
Needless to say, we've both been busy at the farm and time in the truck is more and more like a vacation these days. I was so happy to get in our clean, tidy, beetle-free cab, I couldn't stand myself. I was enjoying the hum and bustle of the fuel isle, George was out taking care of business, I was happily people-watching. I glanced over and nodded to a lady in a dually hauling horses, and as I was admiring her beautiful horse trailer, I heard it.
Stinkbugs don't only stink, they fly their stink around, and they're not stealthy or accurate. They also don't care if they bounce off your head while they're careening around, because they know you won't hit them. Have I mentioned how much I hate stink bugs?
Anyway, one second this lady and I are having a nice exchange, and the next second I have what feels like the moth man crashing into the back of my head. Of course, the windows are up, so she can't see or hear the fact that I've been assaulted by a stink bug, and has no idea why my face has instantly transformed from a nice, placid smile to the countenance of a vengeful killer. She also seemed alarmed when I jumped up and started flailing my arms like I was on fire.
By the time I caught the damn stink bug in a cup to throw it out the window, she and her partner had pulled away, probably thinking they either just witnessed a full on demonic possession or a blatant display of madness.
It took me a few minutes to figure out I had likely hauled the offending bug in with my dusty old computer bag I found in the mudroom. I left it and the stink bugs in Franklin, Ohio.
I dare an Asian lady beetle to rear her ugly head. I'm ready.