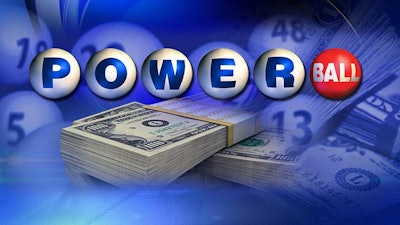 We did the same thing everyone else who contributed two bucks (or more) did for the past two weeks. We dreamed about winning the Power Ball.
So what if the odds were better of being bitten by a shark while riding a unicorn to a lightning strike? Someone had to win eventually, and it could be any of the numbers sold. I never believed I'd be riding in a truck for a living, so winning the lottery is certainly not beyond the boundaries of imagination. Especially mine.
Of course, no one's taking home a billion dollars (the tax man will make sure of that), but who the heck needs a billion dollars? Jeezopete, a thousand dollars would make me extraordinarily happy right now. I can't image if someone handed us a check for several hundred million. I'd likely hyperventilate and stroke out simultaneously.
George likes the idea posed by a Facebook reader. He said if he won the lottery, he'd buy a brand new Coronado glider, park it in the yard, and throw rocks at it every day. George says he'd go one further and plant a garden in the cab of it and make the fenders a flower bed. Heathen.
We've had the late-night, quiet-time conversations about what we'd do. George mentioned he'd probably buy a trucking company and I threatened to smother him in his sleep. I said I'd have plastic surgery on my baby apron and he shot that idea down right away. We agreed we'd probably travel a lot and try to disappear as much as possible, after lavishly spoiling our children and parents, and trying to do some good things for homeless vets.
The closer we got to dozing off, the more flamboyant the plans for power and money became. I knew it was time to roll over and go to sleep when George suggested we would buy the house next door, evict the current tenants, let the dogs poop on the living room floor, seal it up and never open the place again.
"Wow, babe."
"Yeah, I know. I wouldn't make the dogs go in there."
The conversation ended with snoring, and I don't know what he dreamed about, but waking up in the morning as almost-billionaires is fun to think about. But remember, money doesn't buy happiness, but it's sure more comfortable to cry in a Porsche than it is a Pinto.