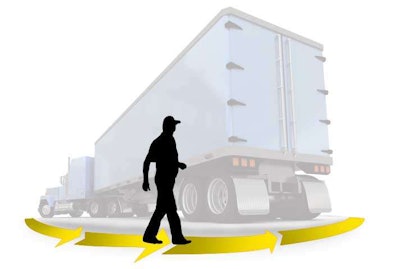 The Truckload Carriers Association hosted a webinar Thursday to discuss its new driver health and wellness program, TCA Wellness powered by Rolling Strong.
TCA and Rolling Strong recently partnered to offer the program, aimed at boosting driver health and on-highway safety.
The webinar was led by "Trucker Trainer" Bob Perry, the president and founder of Rolling Strong, to lead the webinar and answer questions from fleets. While geared mostly toward fleets, Perry also touched on some tips for drivers on staying healthy while out on the road.
He said with the limited amount of downtime drivers have, it's obviously difficult to regularly perform a full exercise regimen, but Perry recommended taking 10 minutes while stopped for fuel or while delivering a load to walk around your truck.
"We've found that with drivers, when we got them to start losing weight, their energy level starts to increase, and they're more alert and open to doing exercise," Perry said. "It doesn't have to be going to a gym, just getting out and walking around the truck works. There are also mobile apps for finding a good, safe place to walk. Do it in 10 minute increments – a workout doesn't have to be all at once."
He added that taking 10 minutes to walk three or four times a day, coupled with consuming fewer calories, could yield positive results.
For more information on TCA Wellness powered by Rolling Strong, visit Rolling Strong or TCA online.