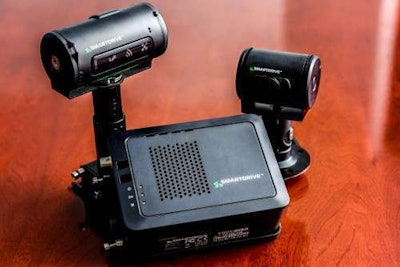 The SmartDrive company has hosted a series of recent press briefings on its new SmartIQ suite of back-office data-analytics products. Company CEO Steve Mitgang noted in a briefing last week that at the core of the benefits from its new effort is light shown on the "missing link" in the wide array of vehicle and other telematics data available to fleets today: the driver.
SmartDrive is known for its dual driver- and road-facing camera systems capturing on-highway events for review by office staff for driver-intervention prioritization. "Video in combination with telematics and other data is the game changer," Mitgang said, giving the example of a performance indicator many fleets track today, the hard brake event.
Captured by trucks' electronic control module and chronicled by many a telematics system in use by carriers today, hard-brake instances themselves often don't give any fleet rep "much accuracy on where it happened and how it happened," he said. "With video you have perfect clarity on [both] – and the important part: Did it matter?"
Don Osterberg, a former Schneider National senior vice president for safety now retired from that role and serving on SmartDrive's board of advisors, trumpeted video's ability to "reduce uncertainty and ambiguity" in carrier's data analyses, to properly assess risk throughout operations.
In addition to driver-performance measures, the SmartIQ platform of services offers carriers ways to see multiple streams of data with greater clarity and across departments without overwhelming end users, the company says. It offers carrier customers what it's calling "prescriptive intelligence" based on performance and other data.
Such intelligence could provide a measure of greater certainty to carriers' performance-based pay packages or bonuses (fuel/idling/safety-related or otherwise), the company notes.
SmartIQ uses "a numeric scale with a higher score indicating higher risk of collision," all scores normalized by "amount of hours and miles driven," writes Aaron Huff of Overdrive sister fleet publication CCJ. "The scores are foundational to the SmartIQ Suite. All of the data visualization tools, key performance indicators (KPIs), drill-down reporting and workflow in the suite is customized by user roles in the organization for improving the scores and thus improving driver performance."
You can read more in Huff's report in CCJ, detailing the system in more depth, at this link.
Overdrive chronicled the first generation of dual-camera systems in this 2014 feature: