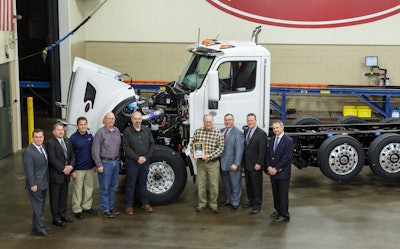 Peterbilt's first lightweight, fuel efficient Paccar MX-11 engine was installed recently in the company's newest vocational truck, the Model 567 in a set-forward front axle configuration. The truck-and-engine combination was presented to representatives of Bismarck, N.D.-based Knife River, who drove it off the assembly line at Peterbilt's Denton, Texas, manufacturing facility to be utilized in the company's mixer operations throughout the Northwest U.S.
"The Paccar MX-11 will bring new levels of performance, durability, reliability and overall return for customers," said Robert Woodall, Peterbilt Assistant General Manager of Sales and Marketing. "It is lightweight and fuel efficient, making it an ideal power choice for customers in a wide range of applications, including regional haul, tanker, bulk haul, construction and refuse."
"We're anxious to put the MX-11 and Model 567 to work," said Scott Hammond, Knife River's Northwest Region Equipment Manager.
Joining Hammond at the presentation were Randy Kephart, Knife River's Equipment Manager at its Coos Bay (Ore.) and Roseburg (Ore.) locations, and Colin Milligan, Shop Manager.
Knife River was founded in 1917 and is based in Bismarck, N.D. They are a full-service civil and residential contractor operating in 19 states. In addition to its contracting services, Knife River is one of the U.S.'s largest aggregate producers and supplies high-quality asphalt, ready-mix concrete and other construction materials.
The Model 567 SFFA is one of 200 Peterbilt trucks the company has ordered.