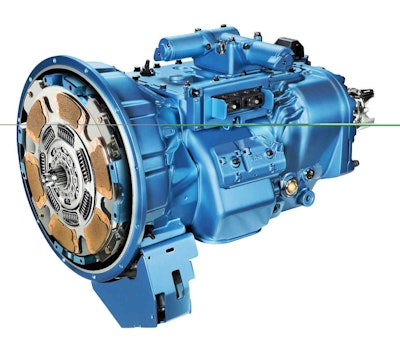 Eaton has expanded coverage of the Fuller Advantage series of automated overdrive transmissions for use in vocational applications. Initially launched in other applications in 2013, Fuller Advantage transmissions offer additional benefits compared to the UltraShift Plus, including reduced weight, increased efficiency and lower maintenance costs.
The Advantage automated overdrive models can be configured with optional Urge to Move, Creep Mode and Blended Pedal functionality for enhanced low-speed maneuverability in situations such as backing into a loading dock or maneuvering in a construction job site.
"The Fuller Advantage automated transmission has proven to be extremely reliable," said Evan Vijithakumara, Eaton product strategy manager. "Now it's ready for vocational duty with 110,000 pound GCW capability, 6- and 8-bolt PTO openings, and driver confidence features such as Hill Start Aid and intelligent gear selection logic."
The Precision Lubrication system represents a key feature. The system reduces the oil churn energy losses found in traditional transmissions by nearly 33 percent, the company says. With less heat being generated, Fuller Advantage transmissions do not require a transmission fluid cooler and corresponding lines and fittings. The result: less preventive maintenance, and with engine fans cycling less, horsepower demand reduction.
An oil level sight glass allows for routine oil checks , and the precision lube system uses only 16 pints of oil, nearly half the amount used in traditional transmissions.
The cooler-less transmission might be most appreciated, noted Eaton Heavy-Duty Transmission sales manager Molly Doyle, by "vocational fleets currently operating our FR series manual transmission, and who are considering an automated transmission in their next truck."
The Advantage is supported by Eaton's Roadranger network, which includes more than 200 drivetrain professionals throughout North America.