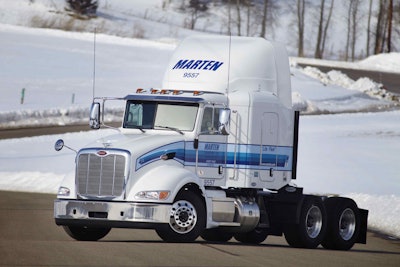 Marten Transport, one of the country's largest carriers, has been ordered by a federal court to pay former driver Cedric Sinkfield $51,167 in back pay and punitive damages stemming from the carrier's 2014 firing of Sinkfield.
Marten said it plans to appeal the order. In testimony transcribed in court documents, Marten representatives assert Sinkfield's file was full of mishaps, missed load assignments, failure to properly secure company equipment and more.
The specific incident that led to Sinkfield's firing occurred in May 2014, when Sinkfield refused a load at a shipper's facility because it was 40 pounds over the 80,000-lb. federal limit and several pounds over allowable axle limits.
Despite a push by his supervisor to take the load anyway, Sinkfield refused. Days later, Sinkfield overslept and delivered six hours late a load for one of Marten's biggest customers, Coca-Cola. Sinkfield's supervisors subsequently recommended to the company's HR department that Sinkfield be fired. Marten cited Sinkfield's May 2014 refusal of the overweight load as one of seven "notable issues" to occur since his March 2014 hiring and one of the reasons for his firing, according to court documents.
Sinkfield's refusal to haul the load, however, is protected by federal law, says Judge Daniel F. Solomon, who heard Sinkfield's case against Marten and issued the Feb. 4 order. And even though the company fired Sinkfield for a litany of performance issues, "protected activity was part of the equation," Solomon writes in his order, thereby making his termination for the incident wrongful, he says.
Solomon awarded Sinkfield $1,167 in back pay and $50,000 in punitive damages. He also ordered Marten to reinstate Sinkfield.
Marten may appeal the order within 14 days of Solomon's Feb. 4 order.