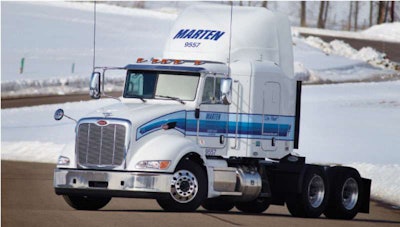 Marten Transport, one of the country's largest truckload carriers, has been ordered by a federal judge to pay a former driver more than $100,000 in back wages and damages following the company's 2013 alleged forced resignation of the driver.
Brandon Hopper claims he was "confronted and baited" by Marten to resign in July 2013 after he refused to haul two allegedly overweight loads and three other loads because, he claims, he would have been in violation of hours of service regulations.
He was awarded $50,000 in lost pay and $50,000 in punitive damages by Department of Labor Administrative Judge Christine Kirby, who ruled in the Feb. 22-issued order that Hopper's refusal to drive was protected by federal labor law.
Marten said in an email to Overdrive it disagrees with the ruling and plans to appeal.
The order is similar to another issued earlier this month by the DOL, in which Marten was ordered to pay former driver Cedric Sinkfield more than $50,000 in back wages and damages after firing him for refusing an overweight load.
Like in the Sinkfield case, Marten says the firings were based on patterns of poor work and missed load assignments. Further, Marten claims Hopper resigned on his own terms in 2013 because he had been reassigned to drive in a different region than he had been, which Marten says Hopper didn't like.
Marten also claims in its court-filed response that the loads Hopper refused to haul were within legal weight limits. The company also says the other loads would not have caused him to violate hours regulations.
Judge Kirby, however, says she found testimony from Marten employees to be "inconsistent and vague regarding key details" of Hopper's separation with the company. Further, Kirby writes in her order, the loads Hopper refused to carry were overweight, according to weigh-ins done at a CAT scale less than a mile from the Marten terminal where Hopper picked up the loads.
Therefore, Hopper's refusal was protected by federal law, Kirby says.
She also ruled Hopper was legally protected when he refused loads due to on-duty time constraints, saying Hopper's dispatcher at the time agreed that he'd be over his 11-hour drive-time limit if he accepted the loads.