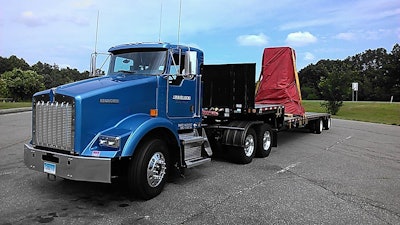 Phones are ringing in Overdrive's Nashville bureau, folks — that is, the phone in my back pocket or on my desk or with me wherever I happen to be. The subject: What happened to the days when a motorist could count on a trucker to stop to help him or her out on the roadside? Or even better: The days a trucker could count on — gasp! — another trucker to stop with some assistance in a remote area?
I exaggerate. A little, but only a little.
Truth is, though programs like TCA's Highway Angel, the Goodyear North American Highway Hero effort and Overdrive's own "Knights of the Road" series make it clear that in particularly extreme situations out on the highways it's truckers who are among the heroic first responders on the scene, the lesser situations might tell a different story.
Cue Kendall Dowdy of Owensboro, Ky. The former owner-operator/current reefer company driver called a couple weeks back now about this very subject after reading another piece of reporting here on the blog.
"I gelled up in South Dakota" at below-zero temps the day after Christmas during the frigid 2013-14 winter, he said. "It was well below zero" on the mercury, and after "I fueled in Wisconsin, and thought I had enough additive in there" rolling through South Dakota after dark, the engine stalled. "I couldn't get it started again." Dowdy put on his four-ways, set the triangles. Though admittedly not many trucks were out given the holiday, he then watched as around eight or so passed without so much as a peep on the CB.
$600 worth of road service ultimately came as Dowdy hunkered in to stay warm.
"Times have changed," Dowdy said. "There's no camaraderie anymore. Used to be a big happy family" to one degree or another "out here. Everyone looked out for each other." A truck with trouble on side of the highway might prompt what Dowdy calls a veritable "circus" of activity with folks trying to help out.
Times have changed, he recognizes. Most people carry a cell phone, and most places around the nation it's possible to get a cell signal. Everybody knows that, and with road-service just a call away, it's tempting to just roll on.
But cell signal availability isn't everywhere, of course, and Dowdy always runs with his CB as a convenient back-up just in case. Worst comes to worst, "if you can't get a cell signal, you still have a backup, could talk to someone with a base station" at the very least, for instance. (Provided that someone isn't some no-'count CB rambo just using the wide range to pick radio fights.)
Joe Bielucki recognizes the changes in camaraderie among drivers as perhaps just reflective of wider changes in American society, with individual members and small groups paradoxically walled off from one another in close proximity, just as it's ever easier to connect and collect in groups via technology from widely disparate locales.
Nonetheless, the Connecticut-based independent owner-operator is a firm believer in paying things forward with his fellow drivers, whether it's assistance at roadside or a lead on new business.
"I ran into a friend loading out lumber" at a location in the northeast. The friend, he said, had "deadheaded 100 miles from Cape Cod to get the load to come home." Bielucki, who knew the region better than the driver in question, given Bielucki runs in the pictured daycab on mostly local hauls, told the driver of a shipper near Cape Cod where more specialized flatbed freight could be picked fairly easily, at better rates than the lumber — for next time.
"I've gotten some leads from fellow drivers as well," Bielucki says, "and I figure you better pay it forward. It's also helping society in general. For crying out loud, your fellow guy, if you know the answer [to a quandary], why not tell him? It's like having a glass of water and watching somebody dehydrate in the desert. Anytime I've helped somebody out, I've gotten a really good deal or a patch of loads after. I sometimes wish I'd kept a journal of my life – pay it forward, you never go wrong."
Words to live by. What's been your experience with driver-to-driver camaraderie in recent years? Call 530-408-6423 to weigh in with a message or drop a comment below.
A few of you had thoughts on a different sort of camaraderie that's fallen by the wayside given what many see as an increasingly adversarial relationship with law enforcement at the scale houses. In the mailbag podcast below, find readers' reactions to the story of owner-operator Kenny Capell's arrest and his case's subsequent dismissal, which I wrote about at this link. The story began with Capell's 2014 refusal to comply with a request for ID after being woken from a sleeper period by an inspector.
Podcast: Play in new window | Download