Well kids, here we go again.
I got a message yesterday with no text, just a picture attached of this sign in the Yankee Candle plant in Whately, Mass., that was posted to a driver's page on Facebook.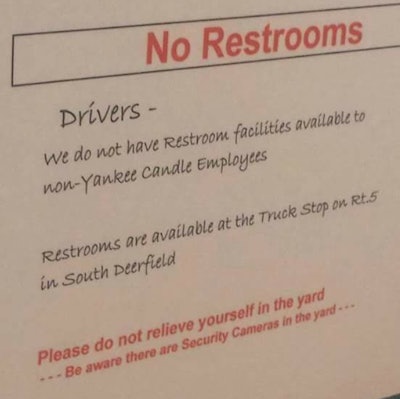 I'm not gonna lie, it fired me up. It also got about 200,000 truckers fired up, and they let their displeasure be known on the YC Facebook page. For several hours, I watched the messages appear, and then disappear, as the page moderator deleted them, and that fired me up even more. There were messages, phone calls and e-mails flying – and the trucking community did not waiver. Between the efforts of Maddog Trucker and several hundred other people, the messages continued to post faster than the moderator could delete.
In an unusual twist of fate — the trucking community wasn't the only one offended by the sign. For whatever reason, denying someone the use of a toilet really upsets people. The general public was pretty horrified by it, and for once, public support was in drivers' corner. There were quite a few posts from unaffiliated individuals, who vowed never to buy a Yankee Candle again.
Eventually, the company did respond. "We apologize to our customers regarding the concern related to the Whately plant signage. This update is to let you all know that the sign has been removed. It was originally placed there due to the fact that the bathrooms at that particular Yankee Candle facility are unsecured, as they currently allow access to the rest of the plant, meaning we could not let non-employees enter. However, these bathrooms are already in the process of a renovation that will alleviate safety and security concerns. We anticipate the changes will be completed in the near future, in the meantime, we welcome drivers to use the restroom facilities at our nearby distribution center," and the company also noted two Sani-Cans would be on the plant's property, one for men and one for women.
OK. We'll take that as a win, even though the apology should have been directed at the truckers, and not the customers, and I have a very distinct feeling the "renovations" might have just begun yesterday. But that's cool, because when you're treated like a second class citizen most of the time, any scrap of respect or acknowledgment is a win.
Now here's the other side of the pancake.
While the support was overwhelmingly in favor of the drivers having a place to relieve themselves, there were a lot of people who thought the company should have every right to deny use of the bathrooms. The frequently referenced "Well, truckers are dirty and they probably messed the stalls up so bad the company had no choice" was once again trotted out as an argument. There was also a lot of support for a company being able to do what they want on private property. Both of these are valid arguments we could discuss all day long, but the fact remains – human beings have certain body processes they absolutely can't control, and some of these processes require the use of a toilet to be completed with a satisfactory degree of cleanliness. Providing said receptacles would prevent the need for people to use the parking lot as one.
Believe me, I know there are still people who are either terrified of bathrooms, or don't know how to use one. I've seen more than one person whipping it out on the fuel island when a bathroom is literally 20 yards away. I get it. There are pigs among us. But we're not all pigs, and we shouldn't be treated that way.
We each have a personal responsibility to represent this industry as a respectable one, and I believe most truckers know and practice that. Unfortunately, the bad apples of the bunch have ruined the sauce for all of us. It's time to cull those tainted fruits.