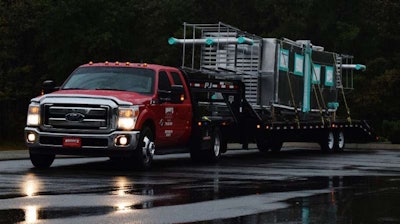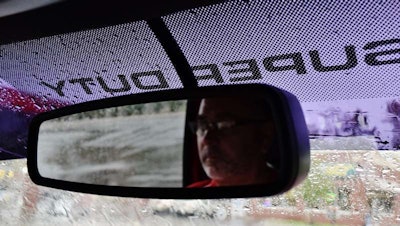 Owner-operator Jeff Ward of Villa Rica, Ga., was on his way north to Kentucky with the above pair of railroad signal houses yesterday and gave me a call — as regular readers will remember, I'm putting together a feature on hotshot trucking, and Ward's operation fits the classic hotshot mold. This load happens to be virtually the only one among his regular freight stable that he hauls via a broker — more often than not, he's responding to a need-it-now request from a receiver at a power company or other outfit that has him staying closer into the Atlanta area. He's going somewhere in that F350 Ford Super Duty, that's sure, but he relayed a story yesterday about a time he went, well, nowhere, quite actually.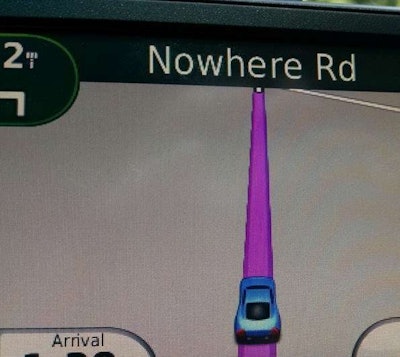 Where to be when the Ebola mess gets crazy, maybe? Sure to be one of those old country roads full of ghosts of past travelers? Maybe — As Ward tells it he was in North Georgia near the South Carolina line with a load destined for an electric power provider, thinking, "Man, there's nothing out here," when he heard this road pop up on his GPS on his route to the town of Hull.
Where are you headed? … (RELATED: Been somewhere a little weird lately, spooky? You might tell TruckersNews.com your scariest highway story via this link to contribute to their October "Haunted Highways" series. Find three stories — all from, where else, Georgia — at this link.)
Heads up if you drive thru Georgia. Plenty of spookiness there. https://t.co/pG3xqCRp29 #HauntedHighways pic.twitter.com/5QWaSr0rNr

— David Hollis (@truckersnews_dh) October 16, 2014
More about owner-operator Jeff Ward's Brady's Hotshot Hauling business, named after his son, in the video that follows.
[youtube hgpo8fvdi70&list=PLc1lg9rs1dUCfNfedpl8Iwc4-m0TsnqnX nolink]
Uber giving 'independent contractors' a bad name
The Uber ride-share service might have itself a problem we all know well: bad apples among its drivers making the road ahead tough for the rest. Note this story from Salon, picking up on a piece originally published by the tech blog ValleyWag, that details the apparent case of a woman taken on a two-hour ride through Los Angeles after "ehailing" a ride home from a party from an Uber driver.
Salon writer Sarah Gray takes the opportunity to scare-quote "independent contractors" in its discussion of what she calls Uber's "share of sketchy drivers."
Uber fired back in the aftermath of the story that it was investigating the case itself, issuing this statement to media:
Early reports on this ride are inaccurate. Based on the information we have at this time, this driver called 911 to ask for assistance with an intoxicated rider who requested an extended trip. However, we have refunded the rider's trip and reached out to the rider for additional information.
Yeah, considered another way, this might be on of those instances that give you occasion to thank your lucky stars you run freight that can't stand up and talk to you.