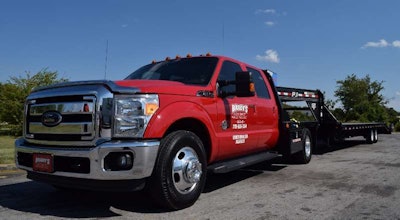 I got the opportunity today to meet Villa Rica, Ga.-based Jeff Ward and his 2012 Ford F350, outfitted with a Cadet flatbed body, gooseneck hitch and PJ trailer (pictured, above). Ward drove over-the-road in another life (up into the 1990s with Averitt Express), before he went out and got his authority hauling local with dump trucks.
He got into running hotshot when the housing market crashed several years ago around the Atlanta area. A local business that dealt in aluminum for high-rise building projects there told him, "If you go by a truck and trailer to haul these bundles of aluminum, I can have you working on Monday." That conversation took place the prior Wednesday. Ward "bought a truck and trailer on Saturday and," sure enough, "went to work on Monday."
Which is all to say, here's to a fellow hauler, eh? Small truck and all, Ward's clearly a pro. I'm working on a broader feature about hotshot hauling — it's been nearly six years since we gave close consideration to the niche. (Hotshots in the audience, raise hands high.) If you've got tips on spec'ing right to the payload, maximizing rates, reducing costs, finding customers or any pertinent topic relative to the niche, be in touch: tdills@randallreilly.com.