This just in:
Henceforth, it will be necessary for all commercial drivers to stop for rectal exams before crossing the border into the Republic of California, and anyone with an internal core temperature of more than 98.9 will be sent to "cool down" stations, or denied entry altogether, until it's determined their presence won't contribute to global warming. Any emissions detected during the rectal exam will be considered a threat to the very fabric of society and fall under the new "fart tax." Offenders will be charged according to the amount of particulates found in said emissions. Needless to say, the Republic is finding it difficult to staff data collection positions.
OK, not really, but you knew that already.
I was inspired by a story I followed along with last week, involving a dispatched driver and an unskirted trailer bound for California. Basically, the guy showed up for what was supposed to be an easy hook and run, and it ended up being a week-long saga of ridiculousness.
The trailer was old, and didn't have a skirt. The driver was sent to have skirts installed (a day of his drive time lost). Turns out, the trailer was scheduled for the scrap pile next year, but instead of doing the sane thing and unloading the old trailer, the company pressed on with the skirt installation.
After a retrofit and a day lost, the driver finally makes it to the delivery point, where ground clearances around the dock are too low to accommodate the skirts. At this point, any sane company would pull the trailer out, have the driver unhook from it, and set it on fire. All right, maybe not set it on fire, but insist the receiver unload it from the road.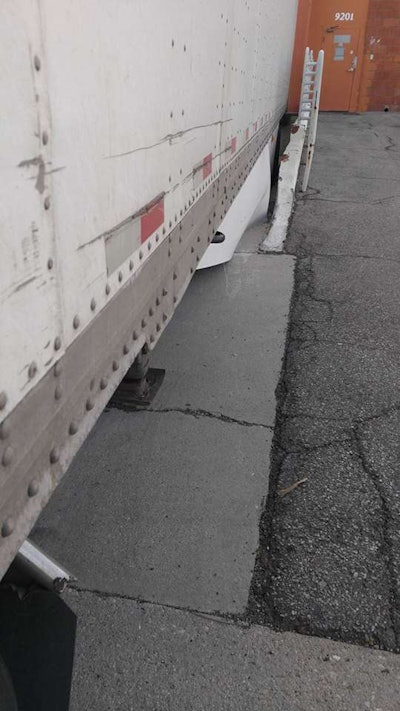 But no.
This went on for another day, while people made phone calls back and forth and decided how they were going to solve the problem. Meanwhile, the driver has another scheduled pick-up he's going to miss if he doesn't get this possessed-from-hell trailer unloaded, which would make two days and a load lost to this debacle of insanity.
It was finally decided that the shipper would eat the cost of having a wrecker out to assist with getting the trailer in the dock. They lost money on the load, but the driver was finally free to get back to driving, instead of babysitting a situation (and trailer) he should have never been a part of.
Here's the kicker. You'd think this was a one time thing, and lesson learned, no more loads booked to that dock, right? That would make sense, right?
Oh yeah, this is trucking. Turns out this was the fourth time a truck and trailer that wouldn't fit had been sent to that address by the same company.
So while it's easy to make fun of California, their skirt laws weren't the essential problem here. The fact that a company would continue to make the same extremely costly mistake, over and over again, and expect the driver to babysit it, is the problem. Doing the same thing, over and over again and expecting different results — the definition of insanity.
I'm no fan of California's prohibitively restrictive laws, but I'm also not a fan of insanity. Just say no to being nuts. Please.