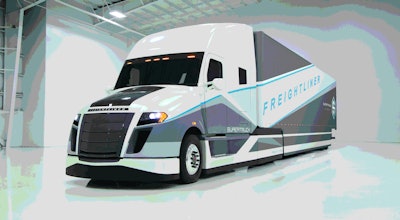 The Department of Energy announced Tuesday its SuperTruck II initiative, which will push manufacturers to improve heavy-duty freight efficiency by more than 100 percent over the most fuel efficient tractor-trailer combo from 2009.
Deputy Assistant Secretary for Transportation Reuben Sarkar announced the $80 million funding opportunity, subject to congressional appropriations, for research, development and demonstration of long-haul tractor-trailer technology at the GreenTruck Summit in Indianapolis.
SuperTruck II projects will work to improve freight efficiency with an emphasis on technology cost-effectiveness and performance, according to the DOE. The Department says SuperTruck II will utilize a variety of truck and trailer technology approaches to achieve performance targets, such as improvements in engine efficiency, drivetrain efficiency, aerodynamic drag, tire rolling resistance and vehicle weight.
The original SuperTruck project launched in 2010 that resulted in a Cummins-Peterbilt SuperTruck, as well as Freightliner's SuperTruck.