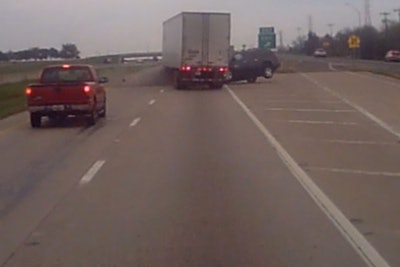 Two truck drivers were involved in separate accidents on St. Patrick's Day in North Carolina in which a pedestrian was killed in each. Police believe both incidents were suicide-by-truck attempts, according to reports.
The first accident occurred at approximately 2 a.m. Thursday, March 17, on I-85 near Concord Mills. John B. Curry, 53, of Clover, S.C. ran out in front of an oncoming truck driven by Carlos Bell, 50, of Kannapolis, N.C., according to a report by the Independent Tribune. North Carolina Highway Patrol 1st Sgt. F.J. Hargro told the newspaper that Curry ran out at an angle in front of the truck.
Police are sending a blood sample from Bell to a lab for testing to determine if drugs or alcohol were a factor "just to eliminate the question," Hargro said in the report.
The second incident occurred at approximately 3:30 p.m. on I-40 near exit 201, according to a report by the Winston-Salem Journal.
Lt. Jeff Gordon of the N.C. Highway Patrol confirmed to the newspaper that 55-year-old David Long of Greensboro, N.C. parked his Jeep Cherokee on the shoulder of the interstate and stepped in front of an oncoming truck. Police said no charges will be filed against the driver of the truck, David Caldwell, who drives for JHOC Inc. out of Forest Park, Ga.
Overdrive published last year a series called "Suicide by Truck," which can be seen here. The series told the stories of truckers recounting their experiences with suicide by truck incidents and the emotional distress following pedestrians and four-wheelers that use trucks as an instrument for suicide.