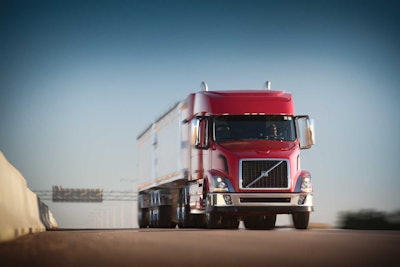 The Federal Motor Carrier Safety Administration issued an order Wednesday that all Volvo trucks affected by a recent recall that have yet to be repaired be placed out of service by federal and state roadside inspectors.
Affected trucks include model year 2016-2017 VNL, VNX, and VNM trucks manufactured from May 11, 2015 through March 8, 2016.
Volvo issued the recall March 10, which affected nearly 16,000 trucks in the U.S. The recall stated that a problem existed in which the steering shaft could separate from the junction block, causing complete loss of control of the vehicle. Additionally, the bolt connecting the upper and lower steering shafts may not have been properly tightened, according to the recall.
FMCSA determined that Volvo trucks that haven't received the interim or permanent recall remedy repair specified by Volvo are likely to cause an accident or break down.
The agency notified inspectors to perform Level IV inspections on any unrepaired vehicles and to place them out-of-service. FMCSA said carriers and drivers that violate the OOS order will be subject to civil penalties and other enforcement.
More information on the recall can be found here.
The agency provided the following photo to help truck owners determine if their truck is affected.