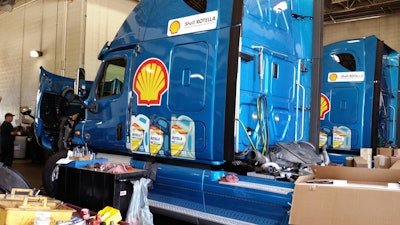 Shell Lubricants is ramping up its efforts to provide information on the road and online for a new diesel engine oil set to launch later this year with the Shell Rotella Road Show rig tour.
Shell says it has logged more than 30 million on-highway miles of testing CK-4 and FA-4 engine oils before they hit shelves in December this year.
The Shell Rotella Road Show has been completely redesigned and just launched the Hard Working Tour across the U.S. and Canada to help educate truckers, fleets and others on the new oils. The 53-foot, double bump-out Kentucky Air Ride Trailer has 3,000 square feet of exhibit space and uses a 2014 Freightliner Coronado tractor.
More information on the new diesel engine oils can be found at WhatIsPC11.com