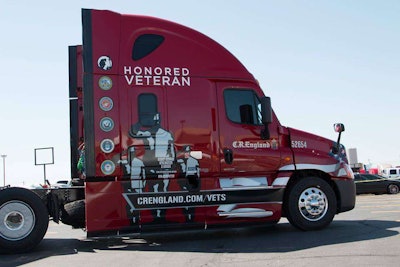 The Missouri Department of Revenue is petitioning the Federal Motor Carrier Safety Administration for an exemption that it says would help ease the transition of former military members into the civial workforce.
The Missouri DOR's exemption request asks FMCSA to extend the time period from 90 days to a year for military or former military members who drove commercial vehicles while in service to waive the CDL skills test.
The Missouri DOR says the 90-day timeframe is too short for many qualified veterans to utilize when reentering civilian life. The department adds that it's used the military waiver program for years, and one of the most common reasons applicants lose eligibility is because the 90-day window has passed.
FMCSA has previously determined that extending the 90-day skills test waiver period to a year following a driver's separation from the military would maintain or exceed current safety levels. This same exemption was granted to the Virginia Department of Motor Vehicles in 2014, according to the exemption request.
In March, FMCSA published a Notice of Proposed Rulemaking that would extend the skills test waiver period from 90 days to a year, but it won't be finalized before Virginia's exemption runs out, so FMCSA says this application is necessary.
Additionally, FMCSA says since the request could be applicable in all states, it is seeking public comment on whether the exemption, if granted, should cover all state licensing agencies. Comments can be made at www.regulations.gov by searching Docket No. FMCSA-2016-0118 when it's published in the Federal Register on Monday, April 11.