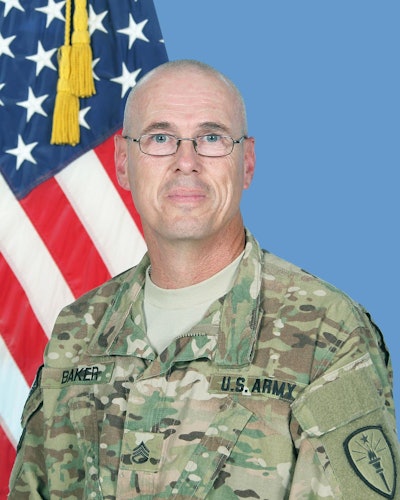 U.S. Army National Guard Staff Sergeant W. Joel Baker, pictured and also known to the Overdrive audience as former independent owner-operator and the founder of Partners in Trucking, maker of the TruckBytes small-fleet/owner-operator accounting software, has been on a number of missions over the last years. After being called back to active duty in the military, Baker became involved in preparing returning soldiers for private-sector careers in trucking. He's back Stateside now, but his class continues when requested. The following detailed story about his intensive efforts was penned for Overdrive by Spc. Richard Hartley of the 1313th Engineer Company, Indiana National Guard.
As the 1313th Engineer Company's deployment overseas narrows down to a few short months, many of the soldiers of the 1313th begin looking for a good career to go home to. In today's economy, it's very hard to find a decent job to be able to maintain a home and provide for a family. Being an over the road (OTR) truck driver is one career that can provide soldiers with a great job through which they can provide for their families. They don't need a degree to do it, only their mastered military skills. Staff Sgt. Willard Baker from First Platoon of the 1313th acknowledges the skills the military has given soldiers and has often volunteered his time to give them the "how-to methods" that have given him a very successful career in the trucking industry. The need for his instructional transition class was displayed by the request for five separate classes with each class having standing-room only.
In 1983, Staff Sgt. Baker started his driving and military career simultaneously when he enlisted in the Army. His job was driving an AM General tractor truck M916 at his first duty station in Eschborne, Germany. Once off of active duty in 1992, he started driving for Texas Star Express, Inc. (owned by Epps Transport Systems). He decided to start up his own business after many years of driving for other companies. In 1999, Baker and Sons was born. In 2004, Staff Sgt. Baker developed a software solution for small trucking companies to use. This software could be used to better their businesses, which in turn gave birth to his IT Company, Partners in Trucking, Inc.
Partners in Trucking came from his own needs while owning a truck. Staff Sgt. Baker tried a variety of different trucking software systems, however none of them did what he needed them to do. He contacted a friend of his and told him what he needed. Staff Sgt. Baker was told to write an outline and draw up some pictures. He did so, and in 2004 when they founded Partners in Trucking and named the trucking software "TruckBytes," accounting and compliance software that is industry-specific for trucking companies and is 100 percent free.
The software provides any and all truck owners the ability to track loads, create invoices, record payments, track income and expenses and print trip reports, in addition to offering tech support. It is especially helpful to new truck owners, since it also provides IFTA fuel tax service for a low "by truck" service fee.
As part of his class, Staff Sgt. Baker went into thorough detail about what trucking companies look for when hiring drivers. He also covered topics like how to be an owner-operator, leasing to a company, how to find companies, and budgeting as an owner-operator. He explained how different driving violations will make finding a job almost impossible and what different types of CDLs were for and what we could do with them. To finish his course, he offered in-depth "benefits versus drawbacks" of both company driving and being an owner-operator.
In the mid-1990s, Baker was employed by a company that fell on hard times. One week in 1999, his paycheck did not clear the bank. It provided him with the incentive and motivation to attempt to own his own trucking company. Staff Sgt. Baker said, "In my first week, I discovered that owning a truck was not easy and I suffered a major breakdown. The repairs and lost time on the road cost me an estimated $30,000.00."
Determined to not give up, he dug in his heels and worked harder than he had ever worked before in his life. In doing so, Staff Sgt. Baker discovered he had more inner strength and determination to succeed than what he knew he had previously. "Owning a trucking company has provided unlimited opportunities that I continue to be thankful for each and every day," he said. "There is a large number of service members who do not have employment when they return home from serving our country. Being deployed with them has given me a unique opportunity to introduce them to the trucking industry. … It is a personal commitment of mine to share this opportunity with my fellow service members."
Staff Sergeant Baker went on to say that "when I left active duty in 1992, I was unemployed, married, and had two sons under the age of two. A Korean War veteran took my military experience and CDL and gave me an opportunity as a professional driver. Later he shared with me it was his way to give back. For me, this is personal and close to home. I am honored and humbled to be able to share my story as well as my knowledge and experience in the trucking industry with as many service members as I possibly can."