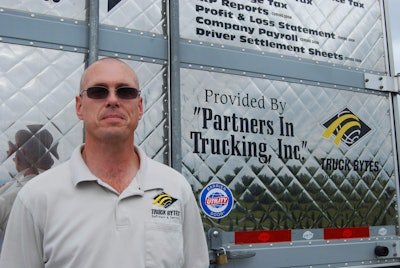 Independent owner-operator W. Joel Baker (pictured), since I talked with him last in 2009 about his TruckBytes web-based owner-operator business software, has been through no shortage of upheavals — he made the decision to re-enlist in the National Guard in order to give his further due to the country, for one. Then, after selling his Peterbilt and preparing to deploy to Afghanistan, his father became ill and his deployment was set back. He invested in another truck (an International this time round) and is back running the roads hauling freight and, yes, continuing to develop the TruckBytes owner-operator business software with the dedicated team he's assembled.
TruckBytes is set apart from many of the software packages out there for one particular reason — minus the important IFTA tax functionality, it's free for users and can be accessed from any platform with an Internet connection to track revenue, expenses and invoices; verify carrier settlements; manage customers, and etc. For the paid version of the software, Baker's team will soon add to the IFTA tracking and reporting functionality a payroll-management feature for small fleets and, farther into the future, logbook auditing possibilities and mobile-friendly platforms as well.
Baker's offering some new promotions, too — the paid version is available for a six-month trial without supplying any payment information, he says. "And If they do pay for the full year, the second year is free."
If you're not currently running any trucking software and haven't developed your own spreadsheet-based methods for tracking and analyzing your business, TruckBytes is available via this site.
Watch for reporting on the trucking software landscape writ large in the October issue. There's a lot of software out there, much of it the result of the last several years of development in the market.
Here's a few links to some of the others particularly aimed at accounting and other solutions for owner-operators:
Truckers Helper
Fog Line's Truckn Pro
MyGauges (developed by Overdrive Dollars and Sense columnist Kevin Rutherford)
Trip Sheet Central
Trucking Office
RigBooks
ITS' Owner-Operator package