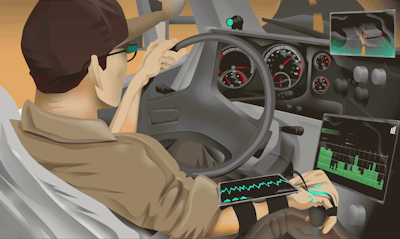 Electronic logging devices may be the tip of the iceberg for real-time monitoring of truckers, their whereabouts and their fitness to drive.
In the next 20-30 years, accelerations in driver monitoring systems, biometric health readings, the availability of massive data sets and more will give way to constant monitoring by fleets — and regulators, likely — of drivers, their habits and their fitness to operate a tractor-trailer.
In the second and final installment of Overdrive's Tomorrow's Trucker series, we explore these topics, the groundwork already in place for such monitoring and what it all means for the future of the owner-operator and the one-truck business model.
The four-part series builds upon the Tomorrow's Trucker installment published in March, available at this link, which explored in-depth how automation both in equipment and freight transactions will change the owner-operator model and the role of the person behind the wheel.
Both installments, built up on months of work by Overdrive editors, can be seen at this link: OverdriveOnline.com/tomorrows-trucker.
Links to all four stories in the series are below. One element of the series will be featured each day this week on Overdrive, but the Tomorrow's Trucker page will remain live and viewable.
Here are the four parts to the April installment of the Tomorrow's Trucker series: